Wednesday, September 29, 2010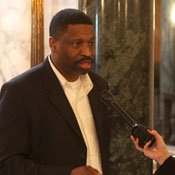 Mississippi NAACP President Derrick Johnson criticized a panel of legislators today for not giving enough oversight on companies that import and hire immigrant workers to pay low wages and avoid taxes. "If you're truly serious about fixing immigration issues you will focus your attention upon the entities who recruit, lure and house illegal immigrants in this state," Johnson said. "Instead you pursue individuals looking for honest work."
Johnson spoke at a legislative hearing concerning a proposed state anti-immigration bill similar to a controversial Arizona state law. The bill would push local law enforcement into adopting immigration enforcement duties normally reserved for the federal government. The bill's author, Sen. Joey Fillingane, R-Sumrall, and other advocates claim state and local law enforcement needs to enforce laws that the federal government is failing to enforce. Opponents say the new law, which allows police to ask people to prove their nationality and residential status at traffic stops and public interactions, amounts to a law that will unfairly target Latinos and minorities.
Johnson, who opposes the bill, pointed out that the state Legislature regularly loans money to companies that employ illegal immigrant workers, while never demanding adherence to residential verification laws.
Sen. Lee Yancey, R-Brandon, a proponent of the bill, pointed out that the Mississippi Legislature passed a law during the 2009 legislative session that demanded that all businesses use a residency-verification system called E-Verify before hiring new employees.
Johnson said, however, that the legislature has done nothing beyond that to target unscrupulous business practices.
"There was no effort to ensure that there were other methods to make sure those corporations were paying their taxes for the workers that were working in those plants," Johnson said. "About a year ago, Howard Industries was raided (for employing undocumented workers). ... I found it ironic that Howard received a huge bond from the state, to the tune of about $50 million, but there was nothing in that bond issuance ensuring that Howard Industries complied with E-verify or any other state legislation. I find it very interesting that they are allowed to house (undocumented workers) in trailer parks near those facilities to make sure that they can get to work on time to work 14 hours a day."
Fillingane said it would take state agencies to enforce the bill and then criticized Attorney General Jim Hood for not enforcing the laws, even though Hood's legislative liaison Blake Bee said Hood's office had received no investigation requests.
Johnson told senators that state agencies, including the state auditor's office, needed legislators to create a policy requiring a more comprehensive audit of companies, in order to ensure that that they are hiring people who are documented and paying appropriate taxes on those individuals.
Previous Comments
ID

160141

Comment

Derrick Johnson is right on target. Any laws dealing with illegal immigrants should begin with hefty fines on the people who employ these illegals. Let's be realistic. If the employers would not hire illegals in an attempt to get cheap labor, these immigrants would not come to the state. These people come to work. They come because someone has let them know there is work at these businesses for them. If no one was hiring them they would leave the state. They are not here because they love Mississippi. If the businesses were not so greedy for cheap labor bekow the minimum wage they could fill all thier job openings with Mississippians. Believe me there is no job an American would not do if the wages are high enough. With unemployment at 9.5% Americans will flock to just about any job opening, provided they are paid a decent wage.

Author

wellington

Date

2010-09-29T20:40:56-06:00