Wednesday, September 29, 2010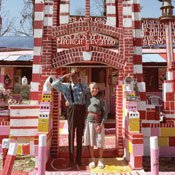 A few miles north of Vicksburg on Highway 61 stands a maze of white, red and yellow cinder block towers and hand-painted signs with biblical messages. On top of an old store, a sign reads: "All is Welcome, Jews and Gentiles here at Margaret's Grocery and Bible Class." Two empty rocking chairs sit side by side on the store's front porch, and the sound of cars on the highway briefly interrupts an eerie silence. For more than three decades, people traveled from all over the world to meet Rev. H.D. Dennis and his wife, Margaret, the woman for whom he created this world away from the world.
Gone are the days when visitors could pull up to the property to find the couple holding each other's hands and waving to cars from their front porch. Now the paint on the once vibrantly colorful cinder blocks and signs is fading. News articles and Bible pages behind Plexiglas are disintegrating and mildewing. The house's front doors are bolted shut and tied together with rope for extra protection. Margaret Dennis died in April of this year. And H.D. Dennis, her 93-year-old (or thereabout) widower, now lives in a nursing home.
The Mississippi Arts Commission is spearheading efforts to preserve the folk artist's creation that inspired so many, including architect Samuel Mockbee, who would often take his students to the site, and Zachary Godshall, who featured H.D. Dennis in his 2008 documentary "God's Architects."
Last month, MAC met with admirers who shared their experiences of Margaret's Grocery on video. MAC Heritage Director Mary Margaret Miller said that was the first step in setting up a nonprofit to provide financial assistance to Cool Springs M.B. Church in Vicksburg, the church H.D. Dennis has deeded the property to when he dies.
"The church is helping take care of the home," Miller says. "But they don't have the extra money. The home needs lots of attention. The goal of the meeting was to bring folks together to get a nonprofit started and have a core focus on restoring Margaret's Grocery."
Miller adds that after the home became empty, looters broke in and stole artwork and photographs of Rev. Dennis from the walls.
Vicksburg artist H.C. Porter says the widely told story of Margaret's Grocery--which probably includes a bit of folklore--is that after Margaret's first husband died from a gunshot wound during a store robbery, H.D. Dennis came to the store to see her, after hearing about her situation. The next week, he returned and told her, "If you marry me, I'll turn your store into a world-renowned spot."
H.D. Dennis was born in Rolling Fork in 1916 or 1918, depending on who and when you ask. When he was 18 or so, he joined the Army and became an ordained minister during his service.
Some visitors have compared Dennis' creation to a Venus flytrap, because those who stumbled upon the eclectic site couldn't resist getting out of their cars and exploring. Dennis would often take visitors onto a school bus in front of his home, which he transformed into his church, complete with a pulpit, pews and hand-painted macaroni murals.
"What I used to say, if you weren't already saved by the time you got on the bus, you were definitely saved by the time you got off," Porter recalls.
She began photographing H.D. Dennis when he was 76, and he shows up in several of her serigraph prints. In one print, she wrote one of his favorite sayings on the frame: "Do not love the world or the things in the world. Love one another in truth. In love there is no fear. Perfect love casts out fear."
Porter gently laughs when she talks about Dennis' idiosyncrasies. She says he had an obsession with shiny objects, preferably hair clips. He would continuously paint and glue objects on any surface available to him. But beyond his creative talents, H.D. Dennis was also a gifted storyteller who didn't always fit in. Porter says he had his own take on several Bible stories, including an Adam and Eve version in which one was black and the other white.
"He was kind of like Jesus--a stranger in his own land," Porter says. "You really had to have a heart for him to get it. That's the same way for a lot of visionary artist in our country--especially the south. ... He had this amazing ability to land on some truth you needed to hear in your life at the moment. No matter what your personal faith, he could make you just stop in your tracks. And you'd think, 'Wow! Maybe I'm suppose to be here right now at this moment, hearing what this very special man had to tell me.'"
To support Margaret's Grocery's preservation, call Mary Margaret Miller at 601-359-6030 or become a member of the group's Facebook page for updates and meetings. The project is in the running for a $50,000 grant from Pepsi. Vote here for it to receive the funds. Voting ends Sept. 30.