Wednesday, September 29, 2010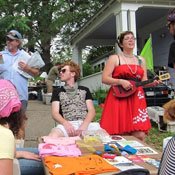 In every neighborhood, it can be tempting to remain busy and disconnected, without investing time to befriend your neighbors. Though it may require some effort, communities are better off when people make an effort to get to know one another. Your experience as a neighbor will be much improved. Developing community is its own reward.
Here are some ideas to get you started.
Community Yard Sales
In June, local artist Josh Hailey hosted a not-soon-to-be-forgotten yard sale in the Fondren neighborhood. For Hailey, this entailed gathering several friends to help out, making posters, placing a kiddie pool in his front yard and MCing karaoke during the sale. Not only did he and his friends sell off lots of their stuff, they had a great time.
He offers some tips for hosting a yard sale that goes way beyond the standard formula and creates good fun for the community:
• Involve others. Gather friends who have items to sell and invite them to participate.
• Make it more than a yard sale. Josh's event allowed people to have fun and encouraged them to stay and hang out.
• Oddity attracts onlookers. Josh says, He likes to combine random things, like crafts and karaoke in the front yard It worked. Those who attended the sale called their friends and invited them to show up.
• Donate any leftovers to charity for an added impact to the community.
A fun yard sale benefits everyone. Even yard sales reflect good business advice. Josh says, "When people are happy, things tend to sell."
Dinner Parties
Jackson native Natalie Walden decided three years ago that her friends from high school, college and church needed to get to know one another. "I consider myself an extreme inclusivist," she says.
As a way to bring people together, Walden began hosting themed dinner parties once a month. They became a vehicle for fantastic conversation and the formation of new friendships.
• Have fun with the theme. Walden's parties have included an Italian dinner, a fall harvest party and a "Great Gatsby" event, complete with period costumes.
• Use technology. Though Walden sends out formal invitations well in advance of the dinner party, she sends text reminders a day or two ahead.
• Coordinate with others. Typically two people cook the bulk of the entrees, and guests bring drinks and bread. For larger groups, Walden borrows her neighbor's tables for a banquet-style setting.
• Create an atmosphere. "Being an interior-design major, I really love presentation." Walden uses beautiful serving pieces, candles and placemats to make it a singular experience for all the guests.
Formal dinner parties at home are relatively rare these days. Inviting friends over for a night of conversation and delicious food is sure to inspire camaraderie and community.
Weekly Get-togethers
Almost every Monday night, Katie McClendon hosts Soup Night. This tradition started two years ago as a way for her friends, both singles and couples, to get together and enjoy a meal. "Most of the time we do a soup just because its something you can make a lot of pretty cheaply," McClendon says. It's also difficult for one or two people to eat a whole pot of soup by themselves, so nothing is wasted. Typically, someone will bring a salad and drinks as well.
Soup Night has become a great way for friends in the Jackson area. There are several ways in which it succeeds.
• Soup accommodates for various diets. Many in the group are vegetarian or mostly vegetarian, and they have no problem eating heartily and well at Soup Night.
• Many people can eat at a very small cost. Between six to 15 people show up each Monday, without significant expense to the host.
• It's a good place for people to bring friends and make friends. The group is dynamic, with guests rotating in and out. Many in the group live in Belhaven, but others live in Fondren or as far away as Brandon.
• When Soup Night members move away, they have great memories and great friends. In addition, the group gives a soup cookbook to members who leave.
A weekly gathering over soup has brought the group closer together and provided a consistent community for those who needed it. "We've all gotten to be closer friends," McClendon says.
Helping In Times of Need
Weather and water emergencies, though relatively rare, cause significant disruption for neighborhoods and communities. Still, they can be an opportunity for communities to come together with a common goal.
When bad weather is on its way, the best plan is to be prepared and willing to share what you have.
• Keep your tools and supplies in good working order. Be ready with a good chainsaw for downed limbs and flashlights with extra batteries for power outages. A battery-powered radio will also empower you with information.
• A kitchen well stocked with bottled water, a few ready-to-eat food items and the all-important manual can opener will go a long way in helping you and your neighbors get through a weather-related power outage.
• Inform your community. If you're following the weather, and you know that others may not be, use text messages, online communication or old-fashioned face-to-face conversation to keep those around you in the know.
Above all, be prepared to lend a hand to those who need it. Even a crisis can be an opportunity to make friends.
Block Parties
Hosting a block party can be a great way to get your neighborhood together. A block party helps new neighbors meet everyone and provides a sense of camaraderie and fun for the whole community.
Special Events Coordinator at the Jackson Police Department Officer Henry Brown coordinates neighborhood block parties in the city.
• There is an application process. JPD needs to know when the party will begin and end, what part of the street will be blocked off and whether alcohol will be served.
• If alcohol is served, security is required to be present. The organizers of private block parties are responsible for the cost of providing security (typically off-duty JPD officers) for the event.
• Plan ahead. The Special Events Committee meets each week to coordinate events with all the city departments. The application must be complete in advance by "at least 14 days, to give me time to meet with the committee and get back to you," Brown says.
To schedule a neighborhood block party, contact Officer Brown at 601-960-1340.