Tuesday, September 28, 2010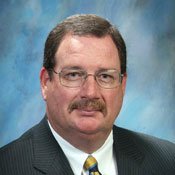 The state may not have the finances or manpower to cover new mandates that would result from a proposed Mississippi bill to copy a controversial Arizona law imposing immigration enforcement duties upon local and state law enforcement, Mississippi Department of Public Safety Commissioner Steve Simpson told legislators today.
Simpson told the Jackson Free Press after his presentation to Senate members of the Judiciary A Committee today that language in the law could require a memorandum of understanding between the state Department of Public Safety and U.S. Immigration and Customs Enforcement, which would require extra training and manpower that Simpson feared the department could not provide without adequate funding from the state Legislature.
"I don't think we can handle any new unfunded mandates. We're already so short-staffed," said Simpson, adding that his department would still follow the law—however effectively—if the state passed it.
Simpson told the committee that the Mississippi Department of Public Safety already has the tools for uncovering undocumented residents through the simple act of troopers demanding driver's license of every person they pull over at traffic stops.
Hearings began today on the bill, submitted by Sen. Joey Fillingane, R-Sumrall, to mirror a controversial Arizona anti-immigration law. Speakers included Mississippi Federation for Immigration Reform and Enforcement President Dr. Rodney Hunt, who said he favored the Fillingane bill and sought strict enforcement of immigration laws ever since the 9-11 terrorist attacks.
Hunt described an incident where inmates in a Madison County jail beat an Muslim-Israeli immigrant after the 2001 terrorist attacks. Hunt said the immigrant had no right to sue the city over a resulting broken jaw since his visa had expired. "It astounded me that an immigrant who had been in the country illegally for two years could turn around and sue the government," Hunt said.
"We are a nation of immigrants, but we're also a nation of laws," Hunt said, explaining that the state needed to support immigration enforcement. He added that Democrats in the House have routinely killed Senate bills seeking to restrict social services to citizens, and said they had "turned their back on American citizens by not enforcing American laws."
Hunt went on to say that immigrants are stealing jobs from citizens, but when Sen. Briggs Hopson, R-Vicksburg, demanded Hunt tell him what businesses are hiring illegal aliens, Hunt said he could not name companies or offer a source for the number of jobs taken.
"All I know is that when you have 100,000 (immigrant) people, they have to have jobs to stay here, and I think it's beyond belief that they're in our economy," Hunt said.
The federal government is seeking to halt the Arizona version of the law, arguing that immigration enforcement is the exclusive role of the federal government, not state or local authorities. U.S. District Judge Susan Bolton put a hold on the more controversial aspects of the Arizona law until the case begins in federal court in November.
Blake Bee, legislative liaison for the attorney general's office, said Attorney General Jim Hood would not speak either for or against the law, since any statement of opinion could jeopardize the AG's defense of the law in the future should it come under court challenge. Bee suggested to committee members that senators insert a severability clause in the bill, which would keep the federal courts from shutting down the entire bill.
"If a portion is struck down as unconstitutional, all of it does not have to be struck down with that clause," Bee said. "The Arizona bill had one, and some provisions of it still stand after the judge's decision."
Also speaking at the hearing, which is scheduled to run until 3:30 p.m. today, is retired U.S. Immigration Special Agent Harry Moran—another bill supporter—and Mississippi Department of Human Services Executive Director Don Thompson. Mississippi Human Services Coalition member Rims Barber and Catholic Charities immigration services division legal worker Karla Velez will likely speak against the bill.
Previous Comments
ID

160113

Comment

These people are remarkable: Hunt described an incident where inmates in a Madison County jail beat an Muslim-Israeli immigrant after the 2001 terrorist attacks. Hunt said the immigrant had no right to sue the city over a resulting broken jaw since his visa had expired. "It astounded me that an immigrant who had been in the country illegally for two years could turn around and sue the government," Hunt said. Then this: Hunt went on to say that immigrants are stealing jobs from citizens, but when Sen. Briggs Hopson, R-Vicksburg, demanded Hunt tell him what businesses are hiring illegal aliens, Hunt said he could not name companies or offer a source for the number of jobs taken. "All I know is that when you have 100,000 (immigrant) people, they have to have jobs to stay here, and I think it's beyond belief that they're in our economy," Hunt said. They have no sources for the rhetoric. There are plenty of facts out there, but they don't fit the script for the nasty crowd.

Author

DonnaLadd

Date

2010-09-28T13:22:10-06:00
ID

160158

Comment

Shame on Mississippi lawmakers like Fillingane who are copying an Arizona law written by a hate group; our state is due a public apology from him and other supporters of this; they are tryning to take us down the same road of the past. Hate Group Lawyer Drafted Arizona's Anti-Immigrant Law From that report: It's not surprising to find a group like FAIR behind this repugnant law. FAIR has an extensive track record of racism and bigotry. The group, for example, has accepted $1.2 million from the racist Pioneer Fund, a foundation established to promote the genes of white colonials and fund studies of race, intelligence and genetics. FAIR has employed key staffers who have also joined white supremacist groups; it has board members who write regularly for hate publications; it promotes racist conspiracy theories about Latino immigrants; and it has produced television programming featuring white nationalists. FAIR has been dominated for much of its life by its racist founder and current board member, John Tanton, who has written that "for European-American society and culture to persist requires a European-American majority, and a clear one at that." Tanton's role model for FAIR is John Trevor Sr., founder of the racist American Coalition of Patriotic Societies and a key architect of the racially restrictive Immigration Act of 1924. Trevor also distributed pro-Nazi propaganda and warned shrilly of "diabolical Jewish control" of America. Tanton once said Trevor should serve as FAIR's "guidepost to what we must follow again this time." FAIR's president, Dan Stein, has warned that immigrants are engaged in "competitive breeding" aimed at diminishing white power. He led efforts to win funding from the Pioneer Fund, saying in 1993 that his "job [was] to get every dime of Pioneer's money." Stein also served as editorial adviser to Tanton's hate journal, The Social Contract, at a time when it ran its ugliest edition ever, "Europhobia: The Hostility Toward European-Descended Americans." The issue's lead article argued that multiculturalism was replacing "successful Euro-American culture" with "dysfunctional Third World cultures." Stein has declined to offer any criticism of FAIR's founder, instead characterizing Tanton last September as a "Renaissance man." Nice going, Fillingame, Phil Bryant, et al. Nice going.

Author

DonnaLadd

Date

2010-09-30T09:43:58-06:00