Tuesday, September 28, 2010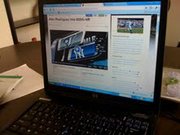 State Receives Broadband Grant
Mississippi has received almost $5 million for assessing broadband coverage and planning to increase high-speed Internet access across the state. The grant, from the National Telecommunications and Information Administration, part of the U.S. Department of Commerce, will help fund the creation of the Mississippi Broadband Connect Coalition, a public-private partnership.
The grant is part of a national effort by the NTIA to develop a national broadband map by February 2011. Gov. Haley Barbour announced the grant in a press release yesterday.
"As we continue to emphasize attracting high-technology jobs to Mississippi, it's important that we're able to provide industrial and business prospects with this kind of critical information," Barbour said in a statement. "The data gathered under this grant will help determine a location that best suits their broadband needs."
Business Accelerator Seeks Cooperation, Input
The Jackson Business Accelerator Collaboration, a project of New Horizon Ministries, is hosting a forum series aimed at sharing ideas for business development in the city.
Dubbed the Jackson Business Development Action Forum, the event is an opportunity to start conversations between the many agencies and organizations that serve entrepreneurs and small businesses in Jackson, Program Manager Michael Harris said. Harris said that he has met one-on-one with groups like the Mississippi Technology Alliance and the Small Business Development Center at Hinds Community College to discuss creating a "resource map" for business owners. The action forum is a chance to plan that kind of project with a larger network, Harris said.
Attendees have three opportunities to join the forum: Tuesday, Oct. 5, at 2 p.m.; Wednesday, Oct. 6, from 9:30-11 p.m.; and Thursday, Oct. 7, from 5:30-7 p.m. All events are held in the upstairs conference room of New Horizon Church International, 1770 Ellis Avenue.
Natural Salon Opens
Melody Washington recently opened Natural U, a natural-hair care salon at 2795 McWillie Drive in Jackson. The salon offers micro braids, yarn twist, lock extensions and starter locks. Call 769-251-5446 to schedule an appointment.
Jackson State Receives Grant
Entergy Mississippi presented Jackson State University with a $50,00 grant this week for the school's Colleges of Science, Engineering and Technology. The grant is part of Entergy's $500,000 commitment for JSU's Entergy Power Systems Laboratory and scholarships for engineering students.