Monday, September 27, 2010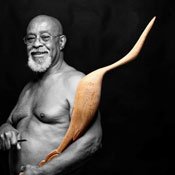 George Berry loves woodcarving so much he will do anything to help educate future Mississippi craftspeople--even if that means shedding his clothes.
Berry, who has been a woodcarving artist since the age of 6, is one of 12 craftsmen featured in the Craftsmen's Guild of Mississippi's "Expose Yourself to Craft" calendar, unveiled at the Mississippi Craft Center tomorrow evening. For the calendar, local photographer Josh Hailey photographed the craftsmen in their partial birthday suits with their work front and center.
The calendar is a fundraiser for the Education Projects of the Guild, which hosts 250 free annual craft demonstrations for the public and a summer camp for children with special needs.
"It was something new and different," Berry says of his participation in the project. "I'm an original member of the craftsmen guild, and I wanted to do something to promote it and give it attention. ... We are trying to encourage more people to get involved in what we are doing."
Berry, 73, is the only person the craft center has released in the calendar. The craft center has kept the remaining 11 a secret until the release party. Berry says he hasn't seen the calendar, yet, but looks forward to tomorrow's surprise.
"We will be just as surprised as the public when we see the calendar," he says.
Berry has spent his entire life carving wildlife figures and teaching others about his craft. The youngest of eight children, Berry grew up on his parent's farm in Vinta, Okla. He moved to Mississippi in 1972 to teach industrial arts at the Piney Woods Country Life School. He currently teaches woodcarving classes for the Craftmen's Guild of Mississippi.
In 1996, he carved awards for the winners of the Governor's Awards for Excellence in the Arts, and won a 2001 governor's award for artistic achievement. His work is currently on display at the Old Capitol Museum in Jackson and the Museum of Natural Science.
You can get the calendars and other "Exposed" products, such as posters and postcards, in bookstores and galleries throughout the state after the party, including Lemuria, Mississippi Art Museum, and from the Mississippi Craft Center (950 Rice Road, Ridgeland) for $15. 
The "Exposed Party" is Tuesday, Sept. 28 from 7 p.m. to 9 p.m. at the Mississippi Craft Center. During the party, the 12 craftsmen will sign calendars. Tickets are $30 each and include a souvenir calendar, music and food. Call 601-856-7546 or visit the Mississippi Craft Center website.