Friday, September 24, 2010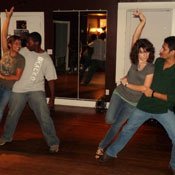 Sept. 24, 2010
Today, start things off by dusting off your 10-speed and going to Rainbow Whole Foods (2807 Old Canton Road) at 6 p.m., to meet with bikers who will gather for the Autumn Community Bike Ride. The ride ends with refreshments at Sal & Mookie's (565 Taylor St.). Later, head to Fondren Corner (2906 N. State St.) and do the cha-cha at Salsa Mississippi's Latin Rooftop Dance Party at 8 p.m. Beer, water and sodas is available to quench your thirst. Admission is $10. If you're not into sweating, there are several plays tonight at 7:30 p.m. such as "Red, White and Tuna" at New Stage Theatre (1100 Carlisle St.), "Bridge to Terabithia" at Actor's Playhouse (121 Paul Truit Lane, Pearl) and "Joseph and the Amazing Technicolor Dreamcoat" at Black Rose Community Theatre (103 Black St.). Visit the JFP Events Calendar Stage and Screen listings for more details and admission prices.
Tomorrow, do some early morning shopping at the Market in Fondren at 3270 N. State St. in the parking lot across from Mimi's. The market opens at 8 a.m. Later, have a little family fun at WellsFest, held annually at Jamie Fowler Boyll Park (3601 Lakeland Lane) starting at 10 a.m. The money you spend on food, games and silent auction items benefits Mississippi Families for Kids. Tomorrow is also Museum Day at the Mississippi Museum of Art (380 S. Lamar St.), which means free admission into the museum. Download and print a Museum Day ticket from the Smithsonian website, which provides admission for you and a guest. Need more options? Head to the JFP Events Calendar for complete listings.
Sunday, enjoy jazz, swing and dance music with the New Bourbon Street Jazz Society at the Colonial Country Club (5635 Old Canton Road) at 3 p.m. Admission is $10. After that, see which school marching band will get bragging rights at the Battle of the Bands at Mississippi Veterans Memorial Stadium (2531 N. State St.) at 5 p.m. Pay $10 in advance or $15 at the gate, and admission for children ages 3-6 is $5. I am sure you will be hungry after all that excitement, so check out the JFP Restaurant Listings and the Menu Guide for dining options. If you decide to go to McAlister's, buy a cookie and $1 will go to Share Our Strength, a nonprofit working toward ending childhood hunger in America. In return, you will get a card for a free cookie that you can use on your next visit. How cool is that?
Is something missing? To make sure your event is listed on the JFP calendars, send the information to [e-mail missing] or [e-mail missing], or add your event yourself. It's easy!