Thursday, September 23, 2010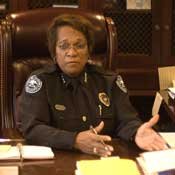 The Jackson Police Department plans to hire 30 to 50 new police officers by the end of this year, Chief Rebecca Coleman said today. The additional officers will allow the department to restructure some of its patrol precincts and dedicate more personnel to south Jackson and downtown.
Speaking to the Jackson Free Press after a command staff meeting this morning, Coleman said that the department has funding for the additional hires, which would bring JPD closer to a 500-officer "benchmark." The department currently has roughly 450 officers.
New officers go through a ten-week training academy program and spend another ten weeks following a senior patrol officer.
"We have looked at restructuring some of the precincts to make the beats smaller, starting with Precinct 1," Coleman said. "That's one of the areas we've looked at putting additional officers, because that (precinct) alone is larger than some small cities."
The department also plans to assign additional officers to cover downtown and the Farish Street entertainment district, Coleman added. Precinct 5, the department's mobile precinct, currently helps patrol downtown along with Precinct 2, which covers the city's western and central sections. Downtown is still a long way from getting its own precinct, Coleman said.
"We have to have ample manpower to make (downtown) a permanent area, but we will beef up the downtown area, not only because of the entertainment district, but also because we have more individuals that are moving into the downtown area," Coleman said.
Precinct 1, which covers south Jackson, has seen a population increase and has also experienced the city's largest crime increase this year: 13 percent, from 2,132 total crimes by this time in 2009, to 2,415 this year.
Citywide, crime dropped 5.7 percent last week, with Precincts 2, 3 and 4 reporting decreases.