Wednesday, September 22, 2010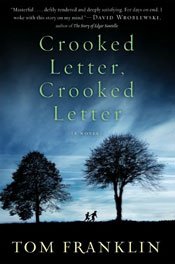 Critics have hailed Tom Franklin's latest novel, "Crooked Letter Crooked Letter" (William Morrow, 2010, $24), as his best and most accessible work to date. Franklin was raised in rural southwest Alabama and currently resides in Oxford, Miss., with his wife, poet Beth Ann Fennelly. Franklin is a writer-in-residence at the University of Mississippi. His first book was the highly regarded short story collection, "Poachers" (1999), and Franklin has also published two critically acclaimed novels: "Hell at the Breech" (2003) and "Smonk" (2006).
"Crooked Letter Crooked Letter" is set in the rural Mississippi town of Chabot, which is like every small town: Everyone knows your business, and if you develop a reputation it will likely stay with you forever. Larry Ott and Silas Jones become secret friends after Silas and his mother move to an abandoned cabin on Larry's father's land. Always an introvert and labeled "weird" in school, Larry prays constantly for a friend, and he finally meets Silas.
But then a girl goes missing after a date with Larry, and the boys part ways. Larry remains in Chabot, known as "Scary Larry," while Silas moves away, returning later as constable of a nearby town. The two haven't crossed paths in 20 years. That is, until another missing girl casts suspicion on Larry again.
"Crooked Letter Crooked Letter" will keep you on the edge of your seat throughout. The JFP spoke with Franklin by phone.
How did you come up with the title?
I really felt "Crooked Letter Crooked Letter" was a great title for a crime novel. I loved the repetition of it. I was really surprised that no one has ever used the title before. Also, "crooked letter crooked letter" is part of the way southern children learn to spell the word Mississippi.
Where did the story come from?
The idea came when I met the only police officer in Fulton, Ala. I kept that in mind and wanted to add the mechanic with no customers, but still there wasn't a connection between the two. I have a friend who is African American, and he told me to make the police officer black. I made those two characters friends, and the rest came to me as the book progressed.
You once said: "I felt alien in my childhood." Does this play a strong part in your development of Larry Ott?
Absolutely! Some of the story is autobiographical. Some of the things that happened to Larry happened to me as well, especially the drive-thru and haunted-house incidents. When I finished the book, I realized that Larry and I were alike. Also, like Silas, I left the South and returned after a couple of years.
You wrote from both a black man and a white man's perspective. Were you worried about tackling a sensitive issue such as race?
I was afraid to get it wrong. Anyone writing about another gender or race would be worried. I had a friend who was black, and he helped me a lot. I tried to focus on basically writing about men. That made the process easier.
What do you want readers to take away from this novel?
Take away hope for the South no matter how much people put it down. Know that no matter how far you run, you will never escape your past.
Tom Franklin signs and reads from "Crooked Letter Crooked Letter" Sept. 30 at Lemuria Books (202 Banner Hall, 4465 Interstate 55 N., 601-366-7619). The signing is at 5 p.m. and the reading at 5:30 p.m.