Wednesday, September 22, 2010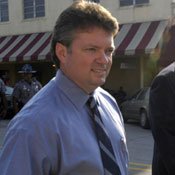 The case of Quintez Hodges is a rare one. Efforts by the Innocence Project and others have vacated death sentences and exonerated an increasing number of wrongfully convicted men, but Hodges was not wrongfully convicted, at least according to the federal judge who overturned his death sentence Sept. 13.
Instead, U.S. District Court Judge Michael Mills ruled that Hodges' sentencing hearing for the 1999 murder of Isaac Johnson, his ex-girlfriend's brother, was unfairly prejudiced against him. Perhaps even more surprisingly, Mills found that a sitting circuit court judge contributed to Hodges' death sentence with false testimony that he gave while still an assistant district attorney.
A Lowndes County jury convicted Hodges in September 2001 for murdering Johnson and, in a separate sentencing hearing, sentenced him to death. Hodges' lawyer during the trial and sentencing hearing, Michael D. Miller, was a recent law school graduate who had never before tried a case in circuit court, much less a death-penalty case.
Medical records show Miller had a history of drug abuse and suffered from bipolar disorder. His trial notes include comments such as: "This is far too much. I want to go home." In 2003, after the Hodges trial, Miller was involuntarily committed to the East Mississippi State Hospital. After his commitment, he left the state and stopped practicing law.
Miller acknowledged in post-conviction proceedings that he did not meaningfully prepare for Hodges' case. He did not present any evidence to persuade the jury to give Hodges a more lenient sentence and even suggested to them that prison sentence would be worse for Hodges than the death penalty.
Mills also found that James Thomas Kitchens Jr., then an assistant district attorney in Lowndes County, gave false testimony during the sentencing hearing. Kitchens, now a circuit court judge (no relation to Supreme Court Justice Jim Kitchens), testified about a previous burglary conviction on Hodges' record. Hodges pleaded guilty to burglary in 1998 for breaking into the home of Johnson's mother, Bessie Tatum, and hiding underneath the bed of her daughter, Cora Johnson, his girlfriend at the time. Hodges served six months of a seven-year sentence in a rehabilitation program and was released in June 1999.
During the capital sentencing hearing and in post-conviction proceedings, Kitchens, who handled the 1998 plea hearing, testified that Tatum had asked him to request leniency for Hodges. In closing arguments, Lowndes County DA Forrest Allgood harped on the "huge measure of grace" that Hodges had supposedly already received as reason for sentencing him to death.
Mills found, however, that Kitchens' testimony was false: Tatum did not tell Kitchens that she wanted leniency for Hodges. In fact, a victim statement she gave to him stated that she was afraid of Hodges and wanted him out of her life.
Moreover, Mills found that Kitchens testified falsely—both in Hodges' murder trial and in Mills' own court—that the state was seeking a 15-year sentence in the 1998 burglary case. The court transcript of the 1998 plea hearing shows that the DA's office made no sentencing recommendation, Mills notes.
"In this instance, the (s)tate, seemingly unconcerned with the accuracy of the testimony to be given in a trial where the result could be death, provided the jury with false information," Mills wrote. "That information was elicited to show that (Hodges) is a remorseless liar who was shown kindness that he refused to acknowledge and which he repaid by murdering the son of the woman who extended it. In light of these facts, this Court concludes that there exists a reasonable probability that this testimony affected the jury's judgment."
In a Sept. 16 letter to the editor of The Columbus Dispatch, Allgood defended himself and Kitchens.
"(N)owhere in Judge Mills' opinion does it say that anyone 'lied,'" Allgood wrote. "That's because no one did. … There is a great difference between giving false testimony and lying under oath. I may genuinely believe what I remember to be true, raise my right hand, swear to tell the truth, and testify 'falsely.'"
Allgood went on to claim that Kitchens' testimony was based on off-the-record conversations in the 1998 burglary case that were not included in the court transcript.
Attorney General Jim Hood confirmed Sept. 15 to the Northeast Mississippi Daily Journal that his office will appeal Mills' ruling to the 5th U.S. Circuit Court of Appeals.