Wednesday, September 22, 2010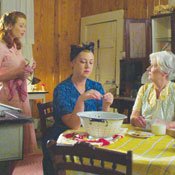 "One Came Home," the first feature film from Rolling Fork native Willy Bearden, is about an idyllic rural community in Mississippi called Magnolia, where all the mamas are nice, all the men are handy, and all the grown children live with their parents. If there was a water body nearby (perhaps just an outdoor privy where the snakes run rampant), this town would be Mississippi's version of Lake Wobegon.
Set in 1946, everybody in Magnolia knows Miss Grace's (Julia Ewings) sad story. Her son Murphy died serving his country, and Miss Grace mourns his death by scrawling out long letters to her dead son. Her daughter Savannah (Savannah Bearden) and the family housekeeper Sherrene (Stephanie Norwood) fret about Miss Grace's reclusiveness. Murphy's widow, Hope, is too dazed and confused to help.
The movie gets more interesting and a bit less predictable when John Mazilli (Corey Parker of "Will & Grace" fame) wanders into Miss Grace's life. Mazilli claims to be Murphy's war buddy, and he has a dandy idea to build a war memorial for his unit. Miss Grace lights up.
"Will this memorial include Murphy?" she asks.
"Why, of course," John responds.
While not journeying into virgin territory, the Bearden and David Tankersley-written "One Came Home," inspired by Bearden's own family history, is homey and comfortable and provides a glimpse of the shattered innocence of the post-WWII era. Ryan Parker's cinematography, Rachel Bolden's art direction and Meriwether Nichols' costume design steep the film in the quiet beauty of a bygone era. The talented cast keeps the material interesting.
Ewings (a well-known Memphis stage actress who has Jessica Tandy appeal) portrays Miss Grace as kind and understanding. Savannah Bearden, the luminescent daughter of the director, strikes the right blend of cautious optimism. Giles lightens up the melodrama with her motor mouth bursts.
These characters are all salt-of-the-earth types. John sums it up when he asks, "Is everyone this nice?" This is a movie without any rough edges.
Bearden wraps the film tight in a Capra-esque homily. Given that this film cost as much as one lunch on a Hollywood picture, Bearden's final product, an obvious labor of love by all involved, is a major accomplishment.
"One Came Home" premieres throughout Mississippi beginning Sept. 20. It screens at Malaco Theaters in Madison, Monday, Sept. 20; Columbus, Wednesday, Sept. 22; Oxford, Thursday, Sept. 23; Tupelo, Monday, Sept. 27; Corinth, Wednesday, Sept. 29; and Southaven, Thursday, Sept. 30.