Wednesday, September 22, 2010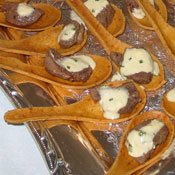 Wedding guests arrive and take their seats. They chatter quietly as the flower girl and ring bearer come down the isle. They "ooh" and "aah" about the bride's dress. They chuckle when one of the couple screws up on repeating the vows. A few might even cry. But when the preacher says, "You may kiss the bride," the couple and their entourage are forgotten. It's time for the reception.
For those of you that have had the privilege of planning a wedding reception—and I say "privilege" with great sarcasm—you know that one of the deciding factors in the reception menu is what pleases men. It is all about compromise. We've got our man dressed, seated on a pew (other than on a Sunday), and we fantasize that romance is warming his heart.
Get real! He is thinking of the reception food. That's what's really warming his heart. And let's face it, if the food does not satisfy, you will be hard pressed to convince him to ever do a repeat performance.
My 23-year-old daughter, Leah, and her fiancé, Joseph Ivey, 26, got married June 26. She put her soon-to-be hubby to work even before they married. Invited to a wedding and reception with the same caterer she would be using, his mission was to decide what food he wanted at his reception.
It was an easy task for Joseph: mac and cheese bites and steak bites. What a no brainer: meat and potatoes.
But don't be disheartened, ladies. Storycook at the B'nai Brith Club made a man's favorite look beautiful and elegant. Owner Story Stamm Ebersole served steak bites on an edible spoon. How cool is that? No dripping on the cocktail dress. I also have to say that Ebersole's delicate bite-size take on macaroni and cheese was delish. She has this magic way of compressing the noodles and cheese together and then frying them ever so lightly. Everybody was happy.
In Vicksburg, Gary Thomas, co-owner of Riverside Food Service, made life easy for my dauther Anna, 27, and her fiancé Derek, 29, on Aug. 28. He knows what a man likes, and, to be honest, women can't turn down his absolutely fresh and piping hot catfish, either.
Thomas quietly and inconspicuously pulled his outdoor cooker to our venue. He and his crew proceeded to produce fried catfish that literally melted in our mouths. If word gets out about Thomas' cooking, there won't be nearly as much arm-twisting going on.
This summer was exciting for me. I had two daughters marry within six weeks of one another. Yeah, my husband didn't have a choice about attending, but I worked with some fine caterers and lovely in-laws. I am relieved this summer is behind me, and I certainly would never want a repeat performance. But in the end I was happy, my girls were happy, and my man was happy.
Contact Story Stamm Ebersole at Storycook at the B'nai Brith Club (721 Clay St., Vicksburg, 601-636-0008)
Contact Gary Thomas and Rhonda Wright of Riverside Food Service/Goldie's Express of Vicksburg at 601-218-3313 or 601-636-2551.