Wednesday, September 22, 2010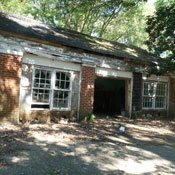 The city will put more energy into Capitol Street's dilapidated properties and will have a new state law to help out, Jackson Mayor Harvey Johnson Jr. said this week.
Johnson said the city wanted to re-focus on the Jackson Zoo, a park within a mature neighborhood containing considerable rundown properties.
"Livingston Park is an important part of the zoo property. The city hasn't done as much as it's needed to do," Johnson said. He added that the city "got legislation passed" during the last legislative session that will allow it to put costs for clean-up or demolition costs directly on the property owners' taxes.
"That'll get their attention, because that bill is going to come out, and if they don't pay those taxes that property can be sold for taxes," Johnson said. "We're very serious about that."
Planning and Development Director Corinne Fox said the city's hands were largely tied when it came to clean-up and demolition.
"What used to happen is the city would put a lien on the property (for cleaning and home demolition), but it was strictly voluntary for the owner to pay it. They could go pay their taxes, but they wouldn't pay their lien," Fox told the Jackson Free Press.
House Bill 1412, submitted by Rep. Credell Calhoun, D-Jackson, and advocated by Jackson Policy Director and city lobbyist Walter Zinn, changes all that. The bill, which Gov. Haley Barbour signed into law April 1, allows the city to add costs for cleaning or dilapidated building demolition directly to ad valorem taxes.
The city sets aside roughly $270,000 in general funds for demolition work, according to Jackson Community Improvement Manager Claude Smith, while Development Assistance Division Manager Leo Stevens said the city has only about $100,000 of its $450,000 fiscal year 2010 Community Development Block Grant funding for house removal. Traditionally, demolition and clean-up work is a net loss for the city because it does not recoup its clean-up and demolition costs from negligent property owners until the owners sell their property. Until the date of the sale, however, the owner could simply ignore a growing pile of new liens the city placed upon the property for repeated cleaning or one-time demolition work.
Smith said the law is still young, but he is already seeing an increase in the number of people who are coming forward to reimburse the city for cleaning and dilapidated house removal.
"It's only been in effect since July 1, but we do see a lot more people coming in and actually paying their bill for when we have to clean it up. And we have some demolition cases where the property owner comes in and pays the full amount for demolition," Smith told the Jackson Free Press.
The new law also states that all assessments levied shall "become delinquent at the same time municipal ad valorem taxes become delinquent." Those delinquencies make a difference, especially when the property owner is the type who rarely returns calls. The law states that delinquencies "shall be collected in the same manner and at the same time delinquent ad valorem taxes are collected, and they carry the same penalties as those provided for delinquent taxes."
The new set-up makes it slightly easier for neglected property to come under city ownership or for the city to put the property up for sale if the owner decides they no longer want to contend with the growing cost of liens and refuse to pay taxes.
Stevens said the change would likely "jolt" neglectful property owners, and liven up city revenues.
"It'll get their attention when they learn they can't let it ride on the books until they sell their property. People knew they could put (a lien) on there and pay it when they sell their property, and basically (they) got a free ride on the city's dime, but come January or February, when taxes are due, they'll have to ante up, I guess," Stevens said. "It'll be a welcome addition."
Jackson Zoological Park Director Beth Poff said the city had already "stepped up its efforts in the last year" regarding demolition and property cleaning, but said she expected to see a bigger change in the Capitol Street corridor over the next few years, driven in part by HB 1412.
"The perception of not having this area cleaned impacts zoo attendance, first and foremost, and I think by us all working together to identify those areas and making sure that they follow the code and the law, and the city having the opportunity to collect more funds against people's property … obviously is wonderful," Poff said.