Wednesday, September 22, 2010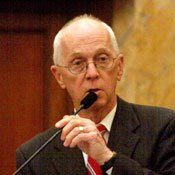 Mississippi leaders experienced a rare moment of agreement last month on the frequently rancorous topic of education funding. While negotiations over the state education budget often follows well-worn plotlines—the Republican-leaning Senate and Gov. Haley Barbour want to give less, the majority-Democrat House wants to give more—this time, both sides consented to squirreling away $125 million in newly arrived federal money in the state's rainy-day fund. It was a happy consensus borne of being temporarily flush yet imminently poor: The state got more money than expected, but the 2012 fiscal year looks to be a doozy.
The influx of federal funds came in two parts, from a single bill the U.S. Congress passed Aug. 9. One part, the $125 million in question, took the form of a higher-than-normal federal Medicaid match. State legislators anticipated receiving this money earlier. They suspended their session in March when it appeared that Congress was ready to pass it, and then, when Congress couldn't get its act together, passed a contingency budget in May that allotted an extra $82 million to education if the enhanced Medicaid match ever materialized. It did, on Aug. 9, but while state lawmakers had expected $187 million, they received only $125 million.
That disappointment was countered, by another chunk of change that the Legislature had not banked on: $98 million in direct aid to school districts to forestall teacher layoffs.
Meeting before the Aug. 27 special legislative session, House and Senate leaders agreed to reserve the $125 million, as schools would be getting more than the $82 million originally allotted for them in the contingency budget.
Not everyone was happy with this plan. Sen. Hob Bryan, D-Amory, conceded that the additional $98 million necessitated some changes to the original contingency budget, but he took issue with saving so much more than originally intended. Bryan also objected to the secrecy surrounding the negotiations.
"The governor basically doesn't believe that the government does anything and doesn't see why we have one," Bryan told the Jackson Free Press. "I know where he's coming from. I cannot fathom what has gotten into the House and why they're going along with us."
On Aug. 19, and again Sept. 15, Barbour sent letters to superintendents urging them to reserve the $98 million for the 2012 fiscal year. The 2012 state education budget will already have to account for the loss of $278 million from the federal economic stimulus package that it enjoyed in 2011, he argued.
"Given that you have already finalized your school year budgets, contracts are in place and you have identified funding sources to fund the executed budgets, please save those unexpected funds for the extremely difficult budget year in FY 2012," he wrote Aug. 19.
Education advocates worry, though, that Barbour's doom-and-gloom pleadings may have a subtext. If school districts push the entire $98 million forward, then Barbour could demand that legislators allocate $98 million less in state money for the 2012 K-12 education budget than they would otherwise.
It's a fear with some justification: In statements about the education budget, the governor has repeatedly claimed that school districts have hundreds of millions in rainy-day funds, when the vast majority of those funds are actually seasonal dollars that help the districts weather the irregular funding streams of local property-tax collections. Most school districts do not carry significant amounts in their rainy-day funds beyond a school year, but that has not stopped Barbour from using those funds as proof that schools can endure more cuts.
"I'm a bit concerned … that the governor may push for a lesser appropriation for K-12 for (2012), because he has told school districts to move those dollars forward," said Parents Campaign Executive Director Nancy Loome. "If that happens, then schools would see no net effect at all from any of these dollars."
School districts have ultimate discretion over how they spend the $98 million, though, so Barbour can only resort to pleading.
The Legislature is holding budget hearings for state agencies this week, and Mississippi Department of Education officials will almost certainly submit a quixotic argument for full funding of the Mississippi Adequate Education Program, the state's main avenue for providing "adequate" funding to low-income school districts. While MAEP hasn't received close to full funding since 2008, Loome hopes to put additional pressure on legislators this year to give K-12 education its due.
For the last two fiscal years, the percentage of the state budget dedicated to K-12 education has dropped, she says. Despite the added stimulus dollars, legislators have cut education at a faster rate than other budget areas.
"The idea that the Legislature has done all that it can to protect K-12—that's really not accurate," Loome said. "If something is really your priority, you don't cut it more than you cut the rest of the budget, percentage-wise. I think that there are probably many legislators who are not aware that that is the case."