Wednesday, September 22, 2010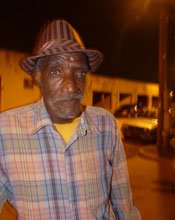 When performing at a blues venue in Jackson, James Gray, known as "Rock," is almost always stylishly dressed and sporting a fedora, shuffling and twirling pretty women around with his left arm while his right sleeve stays tucked in his belt. If he doesn't have a dance partner with his one good hand, he's holding a microphone and singing Chubby Checker's "The Twist."
To mere observers, Rock appears to be a fun, old soul who loves to sing the blues. But to those in the Jackson blues scene, he is welcomed onstage with applause and cheers, taking the stage with the likes of Sherman Lee Dillon, Jackie Bell and Jason Bailey.
The 70-year-old moved to Jackson in 1957 from the small community of Purvis, Miss., just south of Hattiesburg. Rock says he's been living the life of a Mississippi bluesman as long as he can remember.
"We lived hard. I'm talking about going out and cutting wood so you can fuel the stove and cook dinner," Rock recalls. "I had to drop out of school in the sixth grade and take a job with a construction company so I could help my family. I didn't even have a Social Security card, but I was making a man's money. Sometimes $300 to $400 every two weeks."
Despite his age, Rock still enjoys Jackson into the wee hours of the early morning, performing at venues like Hal & Mal's on Monday nights, and at the 930 Blues Cafe and F. Jones Corner on the weekends.
"I used to play just about everything. I could play a mean guitar, some piano, flute, horn, all of that. I can't do that no more, but the good Lord made sure I could still sing and dance, so that's what I do," Rock says.
At the age of 18, Rock lost his right arm while saving a woman from getting hit by a train. Outside F. Jones Corner on Farish Street, he gestures toward the railroad just a few blocks away.
"There was two trains coming each way, north and south. And she was drunk, running after the southbound, when she got her sleeve caught," Rock says. "I ran after her and pushed her out of the way, before I got dragged under the car. It carried me about 20 feet, and the only thing that saved me was the train going the other way. It took off my arm, but I'm still alive. So I'm thankful for that."
Rock says the blues is what keeps him alive and well.
"I've been singing since I was 8 years old," he says with a laugh. "Ain't no reason to quit now."
Previous Comments
ID

160111

Comment

Funny finding out all this history on the internet about a family member. James "Rock" Gray is my uncle; my father's brother. Guess it's in the genes, LOL. No wonder my father loved singing, dancing and playing piano. He was always trying to get us to play the piano. In fact, there was always a piano in our home as I can remember. I think it sort of disappeared when I was about fifteen years old. We knew how to dance before we could even talk. Never heard the full story about how he lost his arm; just knew it had something to do with a train. That is an amazing humanitarian story. I hope the lady was/is grateful for that amazing life saving act. What a great heroic thing to do. WOW, is all I can say. Sending major love out to you "Uncle James" from the Lonestar state of "Texas". Much LOVE and God Bless you. DarkChildKnox

Author

DarkChildKnox

Date

2010-09-28T12:30:37-06:00