Wednesday, September 22, 2010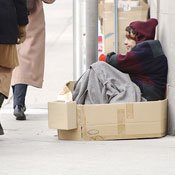 During the fourth annual Project Homeless Connect Week, Jacksonians have the opportunity to address the issue of homelessness on several fronts. Hosted by the city of Jackson and Partners to End Homelessness, the events are designed to educate, empower and connect those affected by homelessness in the Jackson metro.
Project Homeless Connect Week runs Sept. 20-24 and includes a photography exhibit, "That's Not All There Is: Snapshots and Stories of the Homeless" at Eudora Welty Library (300 N. State St.), The Mixin' It Up concert Sept. 23, featuring homeless and former homeless musicians at Smith Park from 11:30 a.m. to 1 p.m.; and the Conference on Homelessness Sept. 24 at Galloway United Methodist Church (305 N. Congress St.) from 8 a.m.-
4 p.m. The conference will address case management, the correlation between homelessness and domestic violence, tactics that criminalize the homeless, ending homeless through permanent supportive housing and assisting homeless ex-offenders.
On Tuesday, homeless residents received services such as such as haircuts, food stamp-application assistance, foot massages and employment information during the One Stop Service Fair at Smith Park.
During the fair, Yolanda Kirkland, child counselor at Stewpot Community Services, said efforts need to focus on finding housing for the home-
less population.
"We need a place for homeless to live," she said. "I see people making a strong effort, but I don't see people in legislation. … There needs to be
a connection."
For more information about Project Homeless Connect Week, call Heather Ivery at 601-960-2178.