Wednesday, September 22, 2010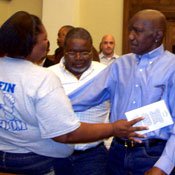 It was tragic when a man raped and killed Eva Gail Patterson in 1979 in Forrest County, says Emily Maw of Innocence Project New Orleans. It was tragic when Patterson's 4-year-old son watched him do it and later told police again and again what he saw. It was tragic that the same man would rape another woman two years later.
It was horrific, Maw says, that the real perpetrator let three innocent men sit in jail for three decades for his crime.
"We can't make it right," Maw told Forrest County Circuit Judge Bob Helfrich Sept. 16. She and co-counsel Rob McDuff asked him to put the injustice to an end now that new DNA evidence proves these three men didn't commit the crime.
Larry Ruffin died in 2002 serving out his sentence. Bobby Ray Dixon, 53, left prison last month in an ambulance. He has lung cancer, and it has spread to his brain. Phillip Bivens, 59, was still serving his life sentence.
Helfrich set aside the guilty pleas of Dixon and Bivens and ordered they be released on their own recognizance until a grand jury gets a chance to review the new evidence.
"We have the best justice system in the world," Helfrich said right before giving his decision. "We'd rather see a guilty person go free than an innocent man convicted."
Forrest County District Attorney Jon Mark Weathers said when Maw and McDuff came to his office last month to request the DNA testing, they all decided this case "would not be resolved in a back room."
Many of the files related to the case are missing, Weathers said, adding that if the new DNA evidence had been available during the 1980 trial, it is likely that a jury would not have found either Dixon or Bivens guilty.
"It's hard to determine what happened 30 years ago," said McDuff, co-counsel for Dixon and Bivens.
All three—Ruffin, Dixon and Bivens—confessed to the crime. Their lawyers say this was partly because the men were threatened with the death penalty. Their stories didn't match up and weren't accurate. They would later recant their confessions, and Bivens and Dixon agreed to testify against Ruffin in exchange for life sentences.
Before the hearing started, Dixon, who wore a crisp blue shirt, walked into the courtroom slowly, making his way with a wooden cane. A family member held his arm to support him. He looked a lot older than his 53 years. After the hearing, he made his way through a crowd of hugs and well wishers before reporters caught up with him at the door. By his side was his twin sister, Bobby Mae Myers. He told everyone he was happy.
"He wasn't eating. Now he's eating good. He couldn't walk, either," said Earlean Coates, 77, Dixon's aunt who raised him. "It's just a blessing,"
"We are going to start a new chapter in life," said Willie Dixon, 46, the younger brother.
Dixon spoke quietly, almost in whispers, to reporters. Bivens, still wearing his red jumpsuit and waiting to be out-processed, also spoke so softly that reporters had to lean in to hear him.
"I didn't know him," Bivens said of Ruffin. "I hadn't met Larry until they put me in jail."
"We are very happy," Maw said after the hearing concluded. "We challenged everyone's assumptions."
Work remains in the case. The grand jury will have to consider the new DNA evidence that identifies Patterson's real rapist and killer as Andrew Harris, currently serving a life sentence for another rape in 1981. The district attorney's office has already started the investigation. Helfrich has assigned Weathers as special prosecutor in the case.
Weathers and defense attorneys agreed that if this same DNA evidence had been available at the 1980 trial, none of the three men would have gone to prison. The defense lawyers also filed a motion for the exoneration of Larry Ruffin to formally clear his name.
Helfrich chose not to make a decision on clearing Ruffin's name at the Sept. 16 hearing. After the grand jury meets will be the correct time for him to rule, he said.
Members of the Ruffin family wore gray T-shirts saying: "Ruffin—Free at Last."
"We know he's free," said Jerry Ruffin, the dead man's younger brother. He said he wasn't disappointed in the judge's decision to wait on clearing Ruffin's name and was confident it would come soon.
"We ain't got justice, yet," he said.
The Ruffin family headed to his gravesite for a reunion following the hearing.