Monday, September 20, 2010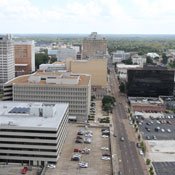 The Jackson metro area's economy continues to improve despite a national recession. In a report the Brookings Institution released Friday, Jackson is one of 20 strongest-performing U.S. metro areas out of 100 U.S. metros during the second quarter of 2010.
The report, titled "Tracking Economic Recession and Recovery in America's 100 Largest Metropolitan Areas," factors in employment, gross metropolitan product, real-estate owned properties, and housing prices in Copiah, Hinds, Madison, Rankin and Simpson counties.
"The U.S. economy's performance is driven largely by that of its major metropolitan economies," the report states. "Although the available economic data for metropolitan areas reflects the more favorable experience of the second quarter of 2010 rather than that of the gloomier third quarter, the data paints a picture of a very uncertain economic recovery."
For the second quarter, Jackson metro's employment numbers were 3.7 percent below its peak during the last quarter of 2007, compared to a 5.9 percent average for 100 U.S. metros. The unemployment rate for the Jackson metro is 9 percent, which is lower than the national average of 9.7 percent. Compared to its previous peak, the Jackson metro area's gross metropolitan product was 1.3 percent higher in the second quarter of 2010.
The new findings come after a June Brookings Institution report naming Jackson one of only 10 metropolitan areas in the country to experience positive job growth in the last quarter of 2009 and the first quarter of 2010.
"This latest recognition is certainly great news for our city and it continues to signify that our Capital City is truly open for business," Jackson Mayor Harvey Johnson Jr. said in a statement.   "We are enjoying a great deal of development, both in downtown and in other areas of Jackson and as major projects continue to come on line, we expect to see even more growth."