Monday, September 20, 2010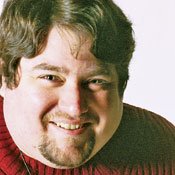 "A secret turning in us makes the universe turn. Head unaware of feet, and feet head. Neither cares. They keep turning." - Rumi
I first met Herman Snell in the Oyster Bar at Hal & Mal's back in 2002 at one of our early Lounges. We were considering the foolish idea of starting a newspaper in Jackson, and either he or one of his friends mentioned that Herman should do events listings for us because he already does them anyway on his personal website. Huh?
The job of compiling events and music listings is a tedious, often thankless task, and it doesn't always bring the respect it deserves. It is hard to pay someone to do it well and care about it, much less to get them to do it for free on their own time just because they care so much about their city and its arts and music scene. I started talking to Herman about it, and it quickly became clear that he was another of the remarkable people we were meeting in Jackson who believed in the city's potential. He was stepping up and doing his part.
Herman volunteered to help us get the Jackson Free Press off the ground. He was our first music editor, started his long-running Herman's Picks column and did the weekly music listings (and for a while, the events listings). And both then, when he did it for free, and after we started paying him a pittance, he never missed a deadline. He cared enough about the local music scene to carry through on his promises. Yes, he got busy over the years with his son, his "real" job, his work with Crossroads Film Festival, and he had to cut back on the music editing part, but he has long been the face of our steady music calendars and bi-weekly Herman's Picks, known for quirky descriptions like "eclectic Gypsy-punk, country-boogie band Dirtfoot," which he wrote in his current column, on the streets now.
We also appreciated Herman because he believed in all music. He would not bow to those who wanted him to "pick" just a certain flavor constantly, and he always made a point of including high-brow options, including his beloved ancient-music performances. The city's knowledge of a variety of music is better for him having been here.
Herman started e-mailing us weeks ago to warn us that he would be out of commission for about a week while he had surgery. In true Herman fashion, he made sure that we were equipped to do it ourselves in his absence. He kept us on task.
I saw the last e-mail he would ever send us this morning, minutes after finding out that he died last night from a blood clot in his lung. He'd written it at 9 a.m. Sunday after coming home after his gastric bypass surgery. "I'm back on my computer updating. Picks will be in on Wed, on schedule. It'll be another few days before I'm driving. Thanks guys," he wrote.
In another 12 hours, at 9:30 p.m., he would be gone.
We are in shock this morning, as are so many people he had worked with and befriended throughout the metro and the state. "Everywhere he went, he made friends," his sister Lynn Snell told us this morning. "He knew everybody. He never met a stranger. He will be missed."
Jackson's arts community will miss Herman as well. "Herman was extremely passionate about music, film and art," said his good friend Nina Parikh, associate manager of the Mississippi Film Office who worked with him on the Crossroads Film Festival, which he directed from 2004 to 2009. "He involved himself in every aspect. There will certainly be a hole in the Crossroads community without his presence. We are eternally grateful for having him in our world for such a long time."
Herman, a Jackson native and Free Mason, was also a dedicated father to his son, Loden. He was an Eagle Scout, writer, poet and kinetic abstract painter (just Google him). He was a big-ideas guy who packed so much thought into his 40 years: Dada, the avant garde, Oulipo, surrealism, Zen, Tao, Sufism.
Rest in peace, dear friend. And thank you for everything.
Snell's funeral is Thursday, Sept. 23, at 11 a.m. at Baldwin Lee Funeral Home in Pearl. A visitation for family and friends is Wednesday, Sept. 22, from 5 p.m. to 8 p.m.
Previous Comments
ID

159830

Comment

This is so sad. Thanks, Donna.

Author

Izzy

Date

2010-09-20T12:57:16-06:00
ID

159831

Comment

Very, very sad. He was way too young and way too good to go so soon. I met him in 2005 when I started writing and he always helped me sneak into the Crossroads Festival for free!! :) Heaven will definitely be boogying a little harder from now on.

Author

Lori G

Date

2010-09-20T13:08:51-06:00
ID

159832

Comment

I have not, in the past, said often enough that Herman was absolutely instrumental in the launch and success of the Jackson Free Press, as he graciously rolled his online music listings into the JFP's print + web listings at the very inception of the paper and kept them up for 8 long years. He weathered all sorts of changes to the system, including, most recently, some changes and adaptations he had to make to accommodate the JFP Mobile iPhone app. (If you're a JFP Mobile user -- and I know we've got some die-hards out there -- it was Herman's music listings you were tapping through every day.) He was extremely diligent and thorough; he often fed us information about important shows, festivals and events that we could pursue for longer stories and (occasionally) paying ads; he was a persistent jovial presence at local events, festivals, and JFP parties. He was a taskmaster; if it came to his attention that an ad had been approved with music listings he hadn't received, we tended to -- well -- hear about it, because it meant his print listings were incomplete. He would then doggedly update the web version so that people had the latest info online. This loss is felt by not only family and friends, but by an entire community of local artists, venues and musicians who were rewarded with bigger audiences -- sometimes a few folks, sometimes a large crowd - -thanks to Herman's dedication to the often thankless task called "letting folks know what's going on."

Author

Todd Stauffer

Date

2010-09-20T13:12:48-06:00
ID

159833

Comment

I had the good fortune to work with Herman during his entire stint at JFP as well as a couple of special events. He never said a cross word or made negative comment about anyone. The Jackson music scene never had a more energetic supporter than Herman. We will miss his column, his wit and his love of music. ---Charly Abraham

Author

Charly

Date

2010-09-20T13:38:13-06:00
ID

159835

Comment

I'm also going to miss his comments on various issues and debates on the JFP site. The music community will sorely feel this loss.

Author

Izzy

Date

2010-09-20T13:42:47-06:00
ID

159839

Comment

I remember Herman Snell as a young school friend of my son's. I was so glad to see the creative man he had become.

Author

ScoutandBoo

Date

2010-09-20T14:32:22-06:00
ID

159840

Comment

That is truly terrible. He was far too young. God bless Herman and his family.

Author

Brian C Johnson

Date

2010-09-20T14:42:13-06:00
ID

159841

Comment

What a sad day it is for Jackson, Mississippi. Herman was a good friend and a kind person. The last time we spoke he was asking me to be involved with yet another arts project. Such a loss, he will be missed.

Author

DiFatta

Date

2010-09-20T15:10:35-06:00
ID

159843

Comment

This was a shock and the news brought me instant sadness. I had the feeling of knowing him although we never met.

Author

Walt

Date

2010-09-20T16:12:25-06:00
ID

159847

Comment

I didn't know Herman as well as some. In fact we were only what the old folks would call nodding acquaintances. But I greatly respected his work and admired his depth and breadth of musical knowledge. We didn't always agree on his picks, but that's what made him interesting. He was his own man. In an industry so often driven by the latest trend, that alone is deserving of respect. I am truly saddedned that he has left us. In many ways he symbolized what made the Free Pree what it is -- an alternative voice of reason in a keening din of demagoguery and go along, get along spin doctoring. So thanks, Herman. So long. We are surely going to miss you.

Author

CTucker

Date

2010-09-20T16:37:37-06:00
ID

159852

Comment

Just heartbreaking. Herman was one of the best people I have known in the arts community, and one of the first to make me feel like I was part of it. We were supposed to have lunch a few months ago, and I had to cancel, and we never got around to re-scheduling. There's a lesson there.

Author

Scott Albert Johnson

Date

2010-09-20T18:00:34-06:00
ID

159853

Comment

The news is still sinking in. Although Herman worked remotely, he was always on top of things. He was very good and keeping the music listings updated months in advance, and he even forwarded concerts to me so I could include them in the event listings. In terms of listings, I wanted to be like him when I grew up. He was so good at what he did, and it will be hard to imagine not working with him again. We'll all miss you, Herman.

Author

LatashaWillis

Date

2010-09-20T18:21:58-06:00
ID

159854

Comment

I would like to add that I visited Herman's website, Revolving Paint Dream, and I ran across a link called "My To Do List Before I Die." The link was broken, but I did a search and found it here. I'm glad to see that he got to reach a lot of his goals, including: 17) Go outside and lie on the grass 1) Watch the sun set and rise 32) Take a walk in the rain 35) Sleep under the stars It's all about the simple things in life. Then again, his goal of getting a full body massage from two women at once is another story. Herman had quite a sense of humor. :)

Author

LatashaWillis

Date

2010-09-20T18:51:26-06:00
ID

159855

Comment

Wow, this is really sad! I never met Herman but read a lot of his articles. He will be missed.

Author

golden eagle

Date

2010-09-20T22:20:31-06:00
ID

159857

Comment

it is sad to think that his untimely death was linked to a positive change he was trying to make in his life. it's even sadder that i had made that change myself (losing weight) without the aid of a surgery. herman lived in my neighborhood - though i didn't know that until today. had i knocked on his door and offered to walk with him or to motivate and encourage him, maybe he would have started this healthy change without a surgery, the very surgery that took his life. in that ragard, i feel like what scott albert said: "there's a lesson there." wow. sad.

Author

2599

Date

2010-09-20T23:32:37-06:00
ID

159860

Comment

My sincere condolence to Herman's family. There are so many young people attempting to correct weight problems with surgical procedures. It will be helpful to know if here were any avoidable circumstances that could save the lives of others.

Author

justjess

Date

2010-09-21T09:18:32-06:00
ID

159865

Comment

Herman was a wonderful co-worker with me at SourceLink; we will all miss him very much & are praying for his family.

Author

CynthiaLaRue

Date

2010-09-21T12:31:40-06:00
ID

159867

Comment

He was an amazing man and I was fortunate to call him friend. Thank you for saying it for all of us.

Author

kkparker

Date

2010-09-21T15:01:07-06:00
ID

159882

Comment

I called today, flowers can be sent to the funeral home tonight for the visitation. Visitation Wednesday, September 22, 2010 5:00 PM - 8:00 PM Baldwin Lee Funeral Home 3780 Highway 80 East Pearl, MS 39208 (601) 939-6110

Author

ShaWanda Jacome

Date

2010-09-22T10:58:01-06:00
ID

159887

Comment

I'm still so sad about this. Herman set such a great example for me when I took over as music editor, and as many others have said, he NEVER missed a deadline. Thanks to Herman, my boyfriend and I got to see a once-in-a-lifetime show with Daniel Lanois at the Thirsty Hippo in Hattiesburg. We'd never have even known about it if it weren't for Herman's Picks. I had just seen Herman at a Crossroads Festival meeting a couple of weeks ago - I was so glad he was going to be back and helping us out. Can't believe that would be the last time I saw him. We miss you Herman, thanks for all you did for Jackson and the music/film scene here.

Author

andi

Date

2010-09-22T12:27:55-06:00
ID

159893

Comment

This is very informal, but some of us will be at Hal & Mal's tonight in the restaurant for Singer-Songwriter night (Wednesday). And I plan on being there and drinking at least one big toast to Herman so if anybody wants to join me, come on out. I think around 8 or 8:30 pm.

Author

Izzy

Date

2010-09-22T13:45:26-06:00
ID

159903

Comment

Laurel, we'll try to come back tonight after the visitation. We also want to talk to you about helping out with a benefit for Herman's son.

Author

DonnaLadd

Date

2010-09-22T15:13:35-06:00
ID

159907

Comment

Okay, sounds good. I was just remembering how Herman featured my show in one of his "Herman's Picks" many years ago. He called my style "laid-out indie-folk" Love it. Peace to all who read this and think of Herman.

Author

Izzy

Date

2010-09-22T16:23:35-06:00
ID

159932

Comment

Here's to you, Herman. Now everybody up there in the great beyond gets to do what you promoted so many years through Crossroads Film Fest: Watch Indie That's Way Outtie!

Author

marcleffler

Date

2010-09-23T10:05:25-06:00
ID

159941

Comment

Wow, The last few weeks have been full of sadness around here. Just the other night Hermon and I were goofing on each other and now... Many prayers for you and your family.

Author

Super Bobba

Date

2010-09-23T12:29:33-06:00