Monday, September 20, 2010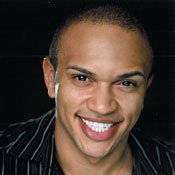 Twenty-three year-old Andre Jordan is a Mississippi virgin. That will change today, though, as the crew and cast of "Legally Blonde," in which Jordan stars, roll into Jackson for the first stop on the national tour of the show.
Jordan, who is from New Jersey, has performed in Disney cruiselines' "Toy Story the Musical," Hong Kong Disneyland's "The Lion King," regional productions of "Aida" and "Rent." He moved to New York City four years ago where he teaches workshops.
We're in Tennessee right now," he says of the state where the cast has done much of its rehearsing. "Everyone is polite. Everyone's just so wonderfully sweet down here."
A guarantee: Jones' short time in Mississippi will be better.
What makes this production different than the others you've worked on?
I've never been in a show where I've had more fun. It's energetic. It's a great time. And I've never toured before. I think it will be fun to see how the show plays in different places.
What have you learned about yourself?
We had Jerry Mitchell (the American theater director and choreographer)—he came in to watch dress rehearsals. He sat down with us and gave us notes. It was one of the most wonderful things I could ever experience.
He told me, "You're good with what you're doing; you're 90 percent there. Be a little more committed to what you're doing—not flashier, not funnier, just more committed." I've taken that with me. This show is so fast, and I just really want to be able to focus on everything that's happening and to have fun with those things. That's something that as an actor you're always taught, but this show has taken this up a notch for me.
And as a person, I've been having a really great time with the cast. The camaraderie is so strong. You never want to feel as an actor that you can't play with someone or that you're not open to someone. Everyone (in this cast) is open and honest and loving. I've taken that in myself. In life and working, you have to be open to receiving and giving things.
Where would you like to go from here?
I stay with it as long as I can, then I go back to New York City. I don't have an agent right now. Every show I've done so far, I've booked it myself, so I'll get someone to represent me. My ultimate, bigger goal is to be on
Broadway. To have that be my get-up-and-go-to-work everyday job, that's ideal.
I'd also like to branch out and do other things. Community outreach is important. Where I come from, there's a lot of voiceless talent. People don't know they have it or there's no one there to nurture it. I want to go back and help (those talents) recognize their gift.
"Legally Blonde" the musical hits Thalia Mara's stage Tuesday, Sept. 21, and Wednesday, Sept. 22. The show starts at 7:30 p.m. each night. Tickets range from $20 to $62.50 and are available through Ticketmaster.