Friday, September 17, 2010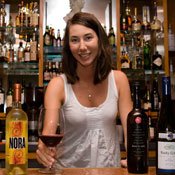 For the past five years, diners at BRAVO! have had Kelly Boutwell to thank for the restaurant's exemplary wine list. The Millsaps graduate, 27, is leaving her post as sommelier at BRAVO! next month to change career paths.
In June, Boutwell received her master's degree in business administration from Millsaps. She went to school part-time while working full-time at BRAVO!, handling all the Italian restaurant's wine orders, crafting its rotating wine list, and recommending food and wine pairings to patrons. Leaving the restaurant after so long is bittersweet, but Boutwell sees the change as an appropriate one after completing her master's.
"It's my way of kicking myself in the butt," she explains.
Boutwell is not sure what work she would like to pursue after leaving BRAVO!, but suspects that it will offer more normal business hours than the restaurant business.
A native of Forest, Boutwell studied anthropology, sociology and classics at Millsaps, graduating in 2005. She joined BRAVO! in 2003 as a hostess and worked her way up to co-managing the restaurant. In 2006, she took over as the restaurant's sommelier.
At 23, Boutwell was the youngest sommelier to be certified in Mississippi, but she professes to be being a wine novice when she started. She learned the ropes by reading books and spending time tasting alongside previous wine director Linda McCarty and local wine broker Norm Rush.
"I liked wine, but I didn't know much about it," Boutwell says. "It's really hard to take what you read in books and know how they're supposed to taste, without someobody holding your hand and saying, 'This is why this tastes the way it does.'"
As sommelier, Boutwell has ordered the restaurant's wine, crafted its wine list and recommended pairings to diners. In July she took a long-awaited trip to Oregon in July to visit wineries in the Willamette Valley.
Sunday, Boutwell hosts a farewell wine tasting at 4 p.m. at BRAVO!, featuring wines from the restaurant's collection that she has been eyeing for some time.
"It's kind of like, 'It's my party, and I'll pour what I want to,'" she says.
The wine list will feature Rieslings, one of Boutwell's favorite varietals, and other less familiar wines. The $55 event is already sold out. To reserve a place on the waiting list, call 601-982-8111 or e-mail Boutwell at [e-mail missing].