Thursday, September 16, 2010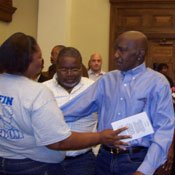 Forrest County Circuit Judge Bob Helfich set two men free today who were convicted 30 years ago for a rape and murder they did not commit.
New DNA evidence proves Bobby Ray Dixon and Phillip Bivens, both 53, did not rape and murder Eva Gail Patterson in 1979. Neither did the third man accused of the same crime, Larry Ruffin, who died in prison seven years ago. Attorneys for men as well as District Attorney Jon Mark Weathers agreed that if this same DNA evidence had been available in the 1980 trial, none of the three men would have gone to prison.
Helfrich said he would wait until the Grand Jury convenes to decide on clearing Ruffin's name. Members of the Ruffin family wore gray T-shirts saying: "Ruffin - Free at Last."
"We know he's free," said Jerry Ruffin, the dead man's younger brother. "We ain't got justice, yet." The Ruffin family was headed to his gravesite for a reunion following the hearing.
Dixon, who has lung cancer and a brain tumor, was released one month ago because of his medical condition. Bivens wore a red inmate's jumpsuit and remained stoic during the hearing and after being freed.
The DNA proves another man, Anthony Harris, raped Patterson. Harris is now serving a life term in Parchman for the rape of another woman in 1982. The district attorney's office has begun a new criminal investigation into the case.
Watch for a longer story about the exonerations in the print edition next week.