Thursday, September 16, 2010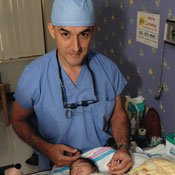 When heart surgeon Dr. Jorge Salazar performed a first-time procedure on Zavin Arellano's tiny heart last month, he took his job seriously, knowing that the baby's parents trusted him to save their infant's life.
"It feels like a great privilege, and I do feel this very strong sense of responsibility because the parents, many times when I'm talking to them before the surgery, they look me right in the eye and they say, 'Doctor we're giving you our baby, and we trust you,'" says Salazar, chief of congenital heart surgery at University of Mississippi Health Care. "As a father myself ... I understand what that means for parents to trust somebody else—someone who they may have just met—with their baby's life. I feel a very strong sense of responsibility."
Heidelberg, Miss., resident Georgianna Joe noticed that that her three-day-old son, Zavin Arellano, was breathing strangely. Doctors at UMMC diagnosed Arellano with a heart-vessel defect that was reducing the amount of oxygen in his body, To live, Arellano needed the arteries of his heart reversed.
On Aug. 4, Salazar and a team of surgeons at the UMMC's Blair E. Batson Hospital for Children performed Mississippi's first arterial switch procedure on the infant. The six-hour surgery required surgeons to reverse the arteries of Arellano's heart to provide enough oxygen to his the coronary arteries. They also patched two holes in the baby's heart.
Since joining UMMC in April, Salazar, 42, has performed 55 successful heart surgeries on children.
"Every decision that I make about how I'm going to take care of these very difficult heart problems that children have, I think about what I would want for my child and it helps me make those hard decisions," he says.
Salazar says that children with similar heart defects can now receive the care they need without leaving Mississippi.
"I'm really excited for Zavin and I'm really excited for the other kids in Mississippi because they don't have to leave their state anymore, they get the same high quality care at home," he says.
Salazar earned his medical degree from University of Washington in Seattle. He completed his residency and training in general surgery and cardiothoracic surgery at the John Hopkins Hospital in Baltimore and an additional year of pediatric heart surgery training at the University of California in San Francisco. Before coming to UMMC, Salazar was as associate professor of surgery and pediatrics at Texas Children's Hospital in Houston. The father of five currently lives in Jackson with his wife April.