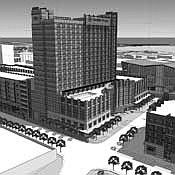 Wednesday, September 15, 2010
Capital City Center, the long-awaited convention center hotel and multi-use development planned for four blocks of Pascagoula Street, could begin construction by the end of this year if developer MJS Realty is able to secure funding. Though the project has been slow moving since MJS acquired the property in 2006, last week Mayor Harvey Johnson Jr. said that the project was still a reality.
Johnson said he met with MJS Realty President Mark Small Sept. 8, and the developer is in the process of submitting proper documentation to various funding sources such as the Mississippi Development Authority.
"Things are moving ahead with convention center hotel," Johnson said Sept. 8. "It's a tight timeline that we are operating under, but things are moving. I was told we would be seeing some of those documents in short order."
Since the Jackson Convention Center celebrated its grand opening in January 2009, the city has experienced a surge of visitors and events downtown. To expand that economic boom, Convention Center Executive Director Linda McCarthy and city officials have pushed for a convention center hotel. The developers estimate that the project would bring $26 million in tax revenue over 30 years and provide 164 permanent jobs.
The ambitious project calls for two hotels—a 19-story Crowne Plaza Hotel with 300 guest rooms and a 175-room Staybridge Suites Hotel—retail, office and residential units, a 1,500-car garage and skywalks.
In June, Jackson City Council members passed a resolution for a cost-sharing agreement with MJS Realty for the $200 million project. Because of what he called a "tough economic climate," MJS financial consultant Steven Hattier said the project would need assistance from the city to become a reality.
"We expect the project to be self financing, but as credit markets have dried up and financing for new construction—or projects that do not already have cash flow already associated—there isn't a lot of availability in credit," Hattier told the city council in June.
Small said the development would use GO Zone bonds, a $7 million U.S. Department of Urban Housing and Development loan allocated through the city, new market tax credits and other bonds to finance the project. The city has also allocated $2.9 million in Katrina Community Development Block Grants for the development in its proposed 2011 fiscal year budget, which begins Oct. 1.
The agreement entails several financial "backstops," such as a reserve fund that will increase to $17.5 million for the developers to use if they are unable to make bond payments. The city is ultimately responsible for 50 percent of the bond debt (or $3 million) should those backstops fail. By backing the development, the city is serving as a co-signer for the project and guaranteeing 6 percent interest on the bonds, a opposed to 9 percent without the city's support.
John Lawrence, former Jackson Downtown Partners president, was on the front end of the project in 2006. He said cities with strong downtown office markets have a better success rate for a convention center hotel to generate revenue.
"For the city to participate in this project is not unusual. Actually it's pretty common," he said. "What you run into with convention center hotels and convention centers (is that) often, what leads to the success of the convention center is the availability of hotel rooms. But the supply of hotel rooms is almost always driven by business travelers who have nothing to do with the convention center."
Correction: In a previous version of this article, JFP news editor Lacey McLaughlin reported that Convention Center Executive Director Linda McCarthy estimated the future revenue projections for the convention center hotel. The Convention Center and the Jackson Convention and Visitor's Bureau supplied some data to MJS Realty financial consultants who determined the revenue projections for the development's expected business revenue and job creation. We apologize for the error.