Wednesday, September 15, 2010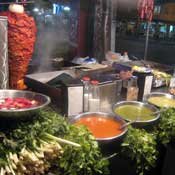 Who doesn't like a good taco? Whether it's a 69-cent American version or an authentic Mexican taqueria-style, tacos are good any way you eat them.
Why not have a taco bar at your next gathering? It's fun, easy and cheap. You will have more free time to enjoy your party when you do most of the prep work ahead of time and have your guests serve themselves. Or, make it even easier (and cheaper) by turning the gathering into a potluck. Have each guest supply an item, like a dozen limes or a container of sour cream.
Here's a checklist and a few recipes to get you started on your road to taco nirvana.
What You'll Need
• Meat fillings: steak, ground beef, chicken, pork, shrimp or fish. Select a few or all to give your guests lots to pick and choose from. Cook the meats yourself, or buy them prepared from your local Mexican restaurant.
• Assorted cheeses: shredded cheddar, Colby, Colby-jack, Monterey jack and pepper jack are all great compliments to the taco. And don't forget the queso fresco.
• Beans: refried and black
• Tortilla chips of various flavors.
• Rice: Spanish rice seasoned with chilies and tomatoes, or white rice with cilantro and lime. Both are great to pair with tacos.
• Wrappers: tortillas (corn and flour) and hard shell tacos.
• Sauces: Whether homemade or store bought, have your favorites on hand, like ranchero, achiote paste, adobo, chipotle and a basic chile sauce.
• Salsas: The most common salsa is made from tomatoes, onions and hot peppers, but there are other options available. Put a few different varieties out for your guests, including pico de gallo, spice bean and roasted corn. And don't forget the salsa verde, which is made from tomatillos, the tomato's green cousin.
• Guacamole.
• Chopped white and red onions.
• Chopped cilantro.
• Chopped or minced tomatoes.
• Limes (quartered).
• Shredded lettuce.
• Sour cream.
• Diced jalapenos.
• Diced black olives.
• Drinks: Visit your local Mexican grocery store to buy traditional Mexican flavored sodas like tamarind, Jamaica, lime, pineapple or watermelon. And don't forget Mexican Coca Cola—made with real sugar instead of high fructose corn syrup—and beer.
Taco Bar Success
• Do as much prep work as possible the night before. Many of the taco-bar fillings can be prepared and stored overnight in a sealed container in the refrigerator.
• Have one fancy or special dish for your guests, like Tom Ramsey's Baja-Asian Fish Tacos (recipe to right).
• Vary the sizes and heights of your serving tables for interest.
• Consider renting chafing dishes to keep your taco fillings hot while out on the serving line. A Special Occasion Party Rental (4444 N. State, 601-982-8109) rents them starting at $20, depending on the size and style.
• Decorate using the colors of the Mexican flag: red, white and green. If you purchase serving dishes in the different colors, you can reuse them for other occasions. A red bowl can be used during Christmas or Valentine's Day, and a green serving tray can be used for St. Patrick's Day, Christmas or Easter.
• Use Mexican blankets (serape or sarape) to dress up couches and chairs. They can also be used as a tablecloth.
• You can find lots of colorful and interesting Mexican candies at your local Mexican grocery store. They make great decorations and are fun to eat.
Baja-Asian Fish Tacos
by Tom Ramsey
3 catfish fillets
12 corn tortillas
1 head of green cabbage
1 head of purple cabbage
1 bunch cilantro
2 limes
3 medium roma tomatoes
1 serrano pepper
1 jalapeño pepper
1 cup mayonnaise
2 tablespoons toasted sesame oil
1 tablespoon soy sauce
1 teaspoon of minced fresh ginger
1 tablespoon olive oil
Mexican spice rub*
Rinse catfish in cold running water and pat dry with a paper towel. Rub both sides generously with Mexican spice rub.
Chop cabbage into long, thin slivers. Dice tomatoes. Finely chop cilantro and peppers.
Warm the tortillas in a 350-degree oven for 15 minutes and reduce heat to 200 to hold while preparing the rest of the dish.
Combine all but one tablespoon of the cilantro with mayonnaise, peppers, sesame oil, soy sauce, ginger and the juice of one lime. Whisk well and add cabbage. Toss until cabbage is fully coated by the wet ingredients. Place the mixture in a colander inside a large mixing bowl to drain.
Toss the diced tomatoes in the juice from half of a lime and the one tablespoon of cilantro you reserved.
Rub the catfish with olive oil and grill over a medium flame until flaky and firm. Place the cooked fish in a mixing bowl and break up with a fork. Add the juice from half a lime.
Remove the warm tortillas from the oven and fill with catfish and cabbage slaw. Top with tomatoes. (Serves 6)
Easy Carne Asada
by ShaWanda Jacome
1 pound skirt or flank steak
2 to 4 teaspoons Mexican spice blend
Chopped cilantro
1 lime sliced
1/2 cup pineapple juice
Rub steak liberally with Mexican spice blend, one or two teaspoons per side. Put steak in a plastic bag with two or three slices of lime, a handful of cilantro and pineapple juice. Seal the bag and mix everything around. Refrigerator overnight.
Grill on the barbeque for three to five minutes on each side for a medium-rare to medium steak.
Remove steak from the grill and cover with aluminum foil, allowing the meat to cool. Chop into bite-sized pieces. (Serves 2)
*You can find a Mexican spice blend in supermarkets; but, to make your own Tom says combine 1 teaspoon each of salt, cumin, chili and garlic powder with 1/2 teaspoon of onion powder, white pepper and oregano. Mix well with a small whisk.
Slow Cooker Carnitas
by ShaWanda Jacome
2-1/2 pounds pork butt roast
1 teaspoon salt
1 tablespoon Mexican spice blend*
1/2 can of Dr. Pepper
1/3 cup pineapple juice
1/2 cup of chicken broth or stock
Rub the pork down with the salt and spice blend. Let rest in sealed container overnight in the fridge.
The next morning, place the meat into your slow cooker. Combine the Dr. Pepper, pineapple juice and chicken broth in a small bowl and pour over the meat. Cover and set your slow cooker to low for 8 to 10 hours or high for 4-6 hours.
Let cool and remove meat onto a large cutting board or large aluminum pan. Shred with two big forks or clean hands.
For a family dinner or a small gathering, you can fry up batches of the pork in a little bit of vegetable oil—just a few minutes, until the meat is crispy on the outside. Serve immediately. (Serves 6.)
Previous Comments
ID

159782

Comment

I only have one question? Where did you guys take that picture, because I want some Taco's from that stand right now! That's the real deal baby - its a few spots in jackson that are coming close, but no one has delivered the knockout punch on the authentic mexican cuisine in Jacktown yet. La Guadalupe, La Morena's, Omonia, and Cinco De Mayo on the reservoir make some pretty descent cantina style taco's - but none of them add the goat cheese like they do in the 'chi. C'mon El Famous - we need you down here!

Author

Duan C.

Date

2010-09-16T07:21:32-06:00