Wednesday, September 15, 2010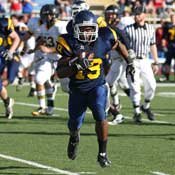 Mississippi schools have been a source of great football talent for a long time. While players at the major universities and colleges get most of the attention, smaller schools have talented players the bigger schools often overlook.
One such player is former Mississippi College great Fred McAfee, who played in the NFL for 15 seasons for four teams, most notably the New Orleans Saints. McAfee's best season was in 2002, when he earned a Pro Bowl berth as a special team's player.
McAfee is not the only player overlooked. This past April after the NFL Draft, two Belhaven players signed free agent deals: offensive tackle Jacob Phillips (Seattle Seahawks) and safety Tramaine Brock (San Francisco 49ers).
Phillips was one of the final roster cuts the Seahawks made to get down to 53 players. At press time Philips had not signed with another team. Brock made the final 53-man roster with the 49ers and was but was inactive status this Sunday against Seattle.
The two Blazers stars could have company in the NFL next season. Jackson-area small schools have talented players who will have pro scouts watching them all season.
Steven Knight, Running Back, Mississippi College Choctaws
Knight was a star during his high school career at Northwest Rankin and at Hinds Community College before coming to Mississippi College. In his first year rushing the ball for the Choctaws, he led the American Southwest Conference in rushing with 1,333 yards on 263 carries and 11 touchdowns.
While averaging 5.1 yards per carry on the ground, Knight got it done in the passing game as well, with 178 yards on 22 receptions with three touchdown receptions.
D3ProDay.com has named Knight Third Team All-American for his senior season. In 2009, Knight was a First Team All-American Southwest Conference performer.
Last season, Knight led Mississippi College to the Division III playoffs and an ASC Conference title. He will be an integral part of MC's bid to repeat the same feats this season.
Knight rushed for 170 yards with two touchdowns for the Choctaws in two games so far this season. Mississippi College will play Louisiana College at home Sept. 25 if you want to see Knight for yourself.
Cordario Calvin, Wide Receiver, Belhaven Blazers
Calvin was a standout football and basketball player at Greenville High School. His journey to Belhaven included stops at Mississippi Delta Community College and the University of Louisiana, Monroe.
Last season, Calvin had 1,028 yards on 85 catches with 12 touchdowns. He is only the seventh wide receiver in Blazers history to post a 1,000 plus yard season. He was a Mid-South Conference Western Division All-Conference selection in 2009.
Entering his senior year, Calvin barely missed a spot in the NAIA Super Six, which honors the top six NAIA players. Like Knight, Calvin will be a player to watch in the race for the Conerly Trophy, awarded to Mississippi's best college football player.
NFL scouts are keeping an eye on Calvin with his excellent size (6 foot 4 inches and 220 pounds) and nice speed (4.5 40 time). Several media outlets, including ESPN, have the receiver on their 2011 draft radar.
Calvin was impressive in his first action of 2010, only playing in the first half of a 58-3 rout of Texas College. The receiver posted 75 receiving yards on five catches with two touchdowns and 16 rushing yards on one carry for another touchdown. He has 191 yards on 15 receptions with three touchdowns in three games this season. The next time to catch Calvin in action will be this Saturday against Lindsey Wilson College (Ky.).
Jack Hayes, Defensive Tackle, Belhaven Blazers
On the Blazer defensive line, Jack Hayes has the potential to garner attention from NFL scouts. Hayes, a Columbia, Miss., native, started at Mississippi Gulf Coast Community College while helping MGCCC to a share of the 2007 National Championship. He made a short stop at Kansas State before the defensive tackle transferred to Belhaven.
Last season, Hayes recorded 42 tackles, including four sacks, and he forced three fumbles. The defensive lineman made the MSC Western Division All-Conference Honorable Mention last season. Hayes has the size (6 foot 4 inches and 280 pounds) to grab the attention of professional teams.
Previous Comments
ID

159778

Comment

After Sunday night's game the Dallas Cowboys would do well to cut Alex Barron and bring in Jacob Phillips. Anyone who watched the Washington Redskins defeat the Cowboys knows it was Barron's holding penalty that cost Dallas the game winning touchdown. At least with a rookie, you a) get him cheap and b) get a player who can actually play in the NFL. Barron has been the most penalized player in the NFL the last five seasons.

Author

Bryan Flynn

Date

2010-09-15T19:52:38-06:00
ID

159844

Comment

I wonder if Ole Miss is scheduling Milsaps and Mississippi College next year since Jacksonville and Vanderbuilt have beat them soundly. Sneed was smart and left just before it all fell apart. Ole Miss is simply Sorry. Why no stories or commentary on their defeat, Bubba? Where is my Ole Miss supporters and fans? How y'all drrrin? Howdy toddy, roddy or whatever it is?

Author

Walt

Date

2010-09-20T16:18:40-06:00
ID

159845

Comment

Walt, If you would like more commentary or stories pass your thoughts along to the powers that be in the Jackson Free Press. I would be more than happy to write more. It is however, up to the editors and owners on what they would like to run. I honor what they would like and give them 100% effort in the sports stories they would like to run. Like I said feel to write Todd or Donna and ask for more. I would be more than happy to deliver.

Author

Bryan Flynn

Date

2010-09-20T16:22:40-06:00
ID

159846

Comment

Thanks Bryan. And might I ask how 'bout them Cowboys, Todd, Queen and Golden Eagle? Don't y'all be talkin' 'bout beating them Steelers! We're down to the 7th quarterback now and we're still winning. No brag just facts. Alright Bryan, I'll talk to T and D about your request. I think I saw them at the gym last evening, one on the treadmill and the other on the epillethal (sp) machine. I wanted to go in there so bad and scream how bout them Cowboys, but I'm too niiice. Todd had help and I chickened out. Anyway the 49ers are going to beat D's team tonight too. I don't have anything against the Saints except they have no business with a record better than, equal to, or comparable to the Steelers. I was glad to see big brother beat little brother last night in the Giants v. Colts. Eli is not ready for prime time. That Super Bowl victory was the Lawd's work.

Author

Walt

Date

2010-09-20T16:34:28-06:00
ID

159850

Comment

Walt, no stories about Ole Miss defeats, they pretty much this year,but State does too, so it's all good.

Author

BubbaT

Date

2010-09-20T17:08:24-06:00
ID

159856

Comment

I have nothing to say about the Cowboys except fire Wade Phillips and trade Tony Romo.

Author

golden eagle

Date

2010-09-20T22:23:19-06:00
ID

159881

Comment

Man, you guys hit the panic button early. We are only a quarter of the way into the college football season and only two games into the NFL season. Vanderbilt is a good football team. The commodores gave LSU all they wanted for three quarters and in case you forgot they are apart of the SEC. MSU has lost to two top 25 teams. I do not see how that makes them a terrible team. Teams like State are supposed to lose to top 25 teams. It seems like everyone forgets that Ole Miss has gone 9-4 the past two seasons. Give it time. Dallas is slowing getting healthy again and were missing their two two tackles the first two weeks of the season. There are still 14 games to go. Pittsburgh has played great with all their adversity but they have not been dominate so I reserve judgement on if they can keep winning by defense alone. It is too early just yet to panic. It is getting close but we are not there just yet.

Author

Bryan Flynn

Date

2010-09-22T10:00:10-06:00