Wednesday, September 15, 2010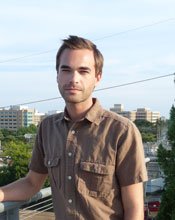 Neil Polen vowed that once he graduated from Mississippi State University, he would move away from the state and never return. But during his last year at MSU's School of Architecture, located in Jackson, Polen experienced a change of heart.
"You reach a certain level of maturity, and you realize there are going to be things you don't like no matter where you live," the 25-year-old Laurel native says. "Once I realized that ... I was able to start seeing value in all the things I thought I didn't like about Mississippi."
Because Polen sees Jackson on the cusp of greatness, he couldn't help but stay and get involved. Being a research associate at the Jackson Community Design Center, a nonprofit urban-design research lab MSU sponsors, he has the perfect opportunity to do that.
At the JCDC, Polen is helping with redevelopment designs for the Old Cola Plant on Highway 80. "We have a lot of freedom to dream big and come up with some crazy ideas," Polen says.
He wants the community to realize what a jewel the Old Cola Plant is and to get excited about the project. "What we're really trying to do," Polen explains, "is build momentum and create a sense of positive energy around that project."
Polen says it is important for the community to be involved in the redevelopment of the plant to battle the cycle of impermanence that many buildings in Jackson go through. "When it's completely profit driven, or when it's completely driven on the developer end, a lot of times there's a big disconnect between the community and the building," he says, adding that if people don't value a building, when something newer comes along, they start going there. "Part of what we're trying to do at the JCDC is ... bring a sense of permanence to things and get people to realize that newer is not always better," Polen says.
Polen draws satisfaction from knowing that the work he is doing now is real and will affect people's lives, unlike many of the projects he did in school, which no one will ever see.
He also loves being able to sign his name to projects like an artist, knowing that it was his creation.
The thing Polen enjoys most about architecture is the process "of re-inventing the wheel," as he puts it, every time he starts a new project.
"A good building will come to you through a process of rigor," Polen says. "And it's really cool to see how you can tackle a problem, and over time the answer or the solution slowly reveals itself."
Previous Comments
ID

159762

Comment

Good for you keeping your talent in Mississippi. Inspiring!

Author

awaykate

Date

2010-09-15T11:38:25-06:00
ID

159767

Comment

Rock on, Neil! I'm inspired by the work you're doing. Jackson is better for having you here.

Author

melia.dicker

Date

2010-09-15T12:36:48-06:00
ID

159774

Comment

Wow, thanks so much!

Author

rnpolen

Date

2010-09-15T15:11:57-06:00