Wednesday, September 15, 2010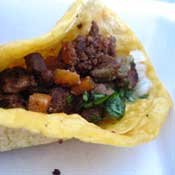 If Spanish is not your first language, you may find it intimidating to stand in line at your local taqueria or taco truck and order off the menu. Here are some typical taco fillings you might encounter:
• Al Carbon: tacos in which the meat has been charbroiled or cooked on the grill. On a menu you might see "camarones al carbon," which is a grilled shrimp taco.
• Al Pastor: marinated pork that has been roasted and then shredded. Similar to carnitas, but prepared a bit differently.
• Barbacoa: slow-cooked shredded beef or lamb.
• Carne Asada: grilled beef, usually a thin cut of meat like skirt or flank steak.
• Carnitas: pork that has been seasoned and braised or slow roasted. It's then pan fried just before serving.
• Lengua: beef tongue.
• Pollo or Pollo Asado: a taco made from chicken that's usually grilled.
• Sesos: typically beef brains, but sometimes goat brains are used.
• Tripe (or Tacos de Tripa): beef stomach, but could also be pig or goat.