Wednesday, September 15, 2010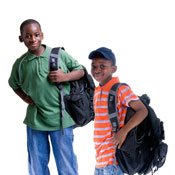 Washington Koen Media along with local and outreach partners invite citizens of cities across the nation to a public conversation they're calling "Beyond the Bricks," which promotes advocacy on behalf of black males enrolled in public schools. The tour kicks off in Jackson Sept. 18 at Tougaloo College and will stop at nine other cities.
"Our national campaign is one we hope will bring all the community stakeholders together to inspire them to make necessary change happen, not only where they are but also beyond," Ouida Washington said in a statement about the event. Change is imperative, according to Washington Productions, when black and poor students are 70 percent more likely than their peers to be taught by instructors who aren't certified in the areas that they teach.
Panelists on the Tougaloo leg of the tour include Rep. Kelvin Buck, D-Holly Springs; Martha Alexander, deputy director of Operation Shoestring; JPS administrator Thelma Davis; WLBT reporter Howard Ballou; and Kendrick Cotton of the Young People's Project.
Registration for Beyond the Bricks is Saturday, Sept. 18, beginning at 10 a.m. at Woodworth Chapel on the Tougaloo College campus (500 W. County Line Rd.). The event runs until 2 p.m. Free.