Tuesday, September 14, 2010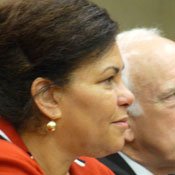 The state needs attorneys to donate their legal services in order to overcome a shortage of free civil legal service aid for residents, Mississippi Supreme Court Justice Jesse Dickinson told reporters at the Mississippi Supreme Court today.
"It doesn't always come down to money," Dickinson said. "If we had a lot of money and could hire a lot of lawyers, that would help, but the real key to this problem is increasing pro bono work, lawyers getting lawyers interested in taking cases without any pay. If we could just increase participation and get more lawyers involved it would make a huge difference. Right now we don't reach but about 10 or 15 percent of what we need. It's really bad."
The Mississippi Access to Justice Commission, formed in 2006 at Dickinson's request, presented the report "The Unmet Civil Legal Needs of Low-Income Mississippians," to members of the state Supreme Court and other judges today. The report reveals that the situation has not improved regarding access to free civil legal service. The state of Mississippi ranked 49th in the nation in funding for civil legal services in 2008.
Civil legal services include attorney work for property issues, such as an illegal eviction, or a property claim. For example, a landlord may remove an occupant from a dwelling and choose to keep the occupant's belongings in a move that is not sanctioned in the lease agreement. But if the defendant is too poor to hire a lawyer to defend them against the action in court, the landlord wins what could be an unfair debate without a fight.
According to the report, approximately 500,000 people live at or below the poverty line in Mississippi, making them eligible for federally funded legal services. However, a considerable number of low-income Mississippians still need legal services for issues such as domestic violence, divorce and child custody, disability, food stamps, housing, Medicaid, foreclosure prevention and contractor fraud.
A total of 10 offices offering free legal service to poor clients operated in the state in 2008--many understaffed. Free legal service programs typically have to turn away half of all clients due to resources shortages, but Dickinson said the issue can greatly be helped if attorneys adopt more pro bono work.
The report's editor, Joy Lambert Phillips, recommended several methods to secure more pro bono work, including tax breaks for attorneys and a more organized and coordinated push through the Mississippi Bar Association. Mississippi Bar members are currently required to report their pro bono hours each day, but they are not required to provide pro bono legal services.
Mississippi College School of Law Dean Jim Rosenblatt said educators can cultivate an appreciation for pro bono work in law students early in their legal education.
"Introduce students in law school to the concept of service," Rosenblatt said. "We offer a service project that our students do as part of our organization, a legal aid office that allows a number of students to work there, so this becomes second nature to them. They realize then how rewarding it is, that this is why they came to law school-to help people, and I think this will carry over into their practice." He added that the lack of pro bono work for civil legal services was more prevalent in big cities than in small towns, where local attorneys make more of a habit of offering pro bono work.