Tuesday, September 14, 2010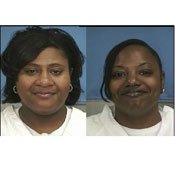 For their supporters, Jamie and Gladys Scott have become emblematic of a broken criminal-justice system in Mississippi. Jamie, 36, and Gladys, 38, were 19 and 21 respectively when they were arrested and charged with armed robbery. Prosecutors alleged that the two young women had masterminded the robbery of two men in Forest on Christmas Eve, 1993. In court testimony, witnesses gave conflicting accounts of how much the robbery netted, some saying that the men lost $200 and others saying the sisters each received $11. In October 1994, a Scott County jury sentenced them to two life sentences each.
Three other men allegedly participated in the robbery, two of whom testified against the sisters as part of a plea deal with the state. All three men have been released after serving their sentences for the robbery.
Advocates for the sisters have organized a march and rally tomorrow, Sept. 15. The march begins at 11 a.m. at Farish Street Park and ends at the state Capitol Building, where the rally is scheduled for noon.
The Scott sisters have attracted a wide network of supporters via the internet. Their case has gained even more attention with reports that Jamie is suffering from kidney failure. City Councilman and attorney Chokwe Lumumba represented the sisters in post-conviction proceedings and is collecting letters of support on behalf of the Scott sisters to be sent to Gov. Haley Barbour.
Previous Comments
ID

159768

Comment

Good participation in today's Rally and March! When people hear about this case for the first time, it is an OMG reaction. I spoke with many whites today who were in total disbelief that a sentence like this could be handed down by any judge. What is more troubling is the fact that MS, for 15 years post sentencing of these two women, allowed the Scott County Judge to continue his re-election process without challenge. It is my understanding that he is running for re-election again this November. It will be interesting to see how Haley Barbour responds to the "pardon" requested by Lamumba. Ronnie Musgrove was asked to "pardon" the Scott sisters when he was in office. This is another case where the Democrat got off without challenge. In other words, Musgrove tucked his tail and ran away. How do these folks sleep at night knowing the pain and suffering they have caused and are causing others??

Author

justjess

Date

2010-09-15T12:47:44-06:00