Tuesday, September 14, 2010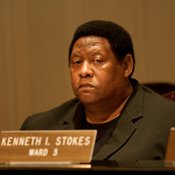 Despite Ward 3 Councilman Kenneth Stokes' request, the Jackson City Council approved a city budget for fiscal year 2011 this afternoon without a tax increase or a blanket pay raise for all city employees.
In a 5-to-2 vote, the city council passed the $313 million fiscal year 2011 budget beginning Oct. 1, which represents a 12.1 percent decrease in size from the $356 million fiscal year 2010 budget. Ward 1 Councilman Jeff Weill joined Stokes in opposing the final vote approving the budget.
Stokes submitted a motion, seconded by Ward 2 Councilman Chokwe Lumumba, to authorize a tax increase on city residential and business property to finance across-the-board pay raises for employees, but Stokes and Lumumba withdrew their motion after learning from city legal that a proposed tax increase must follow public hearings and a public notice of intent by the city council.
Deputy City Attorney Monica Joiner informed Stokes and the council that city ordinance demanded the council publish written notice of the proposed tax increase at least two weeks ago and hold a public hearing on the proposal at least seven before the council was schedule to vote on the city budget.
That time requirement made it impossible for Stokes to continue his motion before the council's vote to adopt the budget today. Lumumba assured the council that he would not support a proposal for the fiscal year 2012 budget next year if it did not contain pay raises for city employees.
Stokes said he opposed the budget because it did not include pay raises, but Weill said he could not pass the budget because the administration balanced the budget with $5.6 million in funds garnered from a debt refinancing arrangement, which gives the city an influx of money over the next five years, but prolongs and increases city debt in the long run.
"It was a balanced budget, but it was balanced with borrowed money, and the taxpayers are going to be in for a shock when that money comes due," Weill told the Jackson Free Press. "The (debt) restructuring, in my mind, was irresponsible. Also, the budget is bloated and continues to pay for tennis courts, half a million dollars for golf courses, tens of thousands of dollars for feel-good trophies for the kids, lavish benefits for city employees, and I'm concerned for the taxpayers of Jackson."
Other council members, like Ward 7 Councilwoman Margaret Barrett-Simon, praised Jackson Mayor Harvey Johnson Jr. and his finance team for balancing the budget in hard economic times.