Monday, September 13, 2010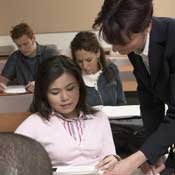 Three Jackson public elementary schools earned the Mississippi Department of Education's "Star School" status—the state's highest rating for school performance—in accountability results MDE released Friday.
George, McWillie and Power Academic Performing Arts Complex elementary schools received "Star School" status, and 21 other JPS schools achieved successful or higher ratings.
Schools that received a "Successful" status are Barr, Brown Elementary, Clausell, Key, Raines, Sykes, Van Winkle and Watkins Elementary; Rowan Middle School, and Forest Hill High School. Though no schools received the status of "Failing," 14 JPS schools received the "At Risk of Failing" rating.
The ratings are a result of student's spring 2010 Mississippi Curriculum Test scores.
Seventy-five percent of the district's schools met the adequate yearly progress standards the 2009- 2010 school year under the federal No Child Left Behind law.