Monday, September 13, 2010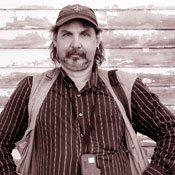 When photojournalist David Rae Morris began to document the aftermath of Hurricane Katrina, he thought he could emotionally detach himself from the destruction, but instead his photographs captured his personal reaction to the storm. "The scope of the destruction was such in a way that you couldn't help but be affected," he says.
Morris grew up in New York and moved to New Orleans in 1994. Morris, his partner and their daughter had evacuated to Jackson during the storm, and he went back a few days later to find his beloved city in ruins. He photographed Katrina's damage and destruction on the Mississippi Gulf Coast and New Orleans for the Jackson Free Press and The New York Times immediately after the storm.
"The situation was so tragic, so exasperating, and many of us who were working here felt pushed to the limit," Morris told Shutterbug Magazine during a March 2006 interview. "There were times I couldn't bring myself to go out and shoot. I needed to go in a bush in the back yard to scream and cry."
The photographer, 50, is the guest speaker along with Vicksburg artist H. C. Porter during tomorrow's Millsaps Art and Lecture Series, "A Katrina Experience." He will speak about his experiences as a photojournalist in the five years following Katrina.
Morris photographed several of his friends and places throughout the city where he had personal memories. In one photo, a woman looks forlornly at the destruction through a bus window as she tours her ninth ward neighborhood. In another photograph, two Mardi Gras masks lay among the debris, covered in dirt.
He also documented the city's joyous moments such as the first Halloween parade after the storm, in which some residents dressed up as refrigerators, a reminder of the hundreds of rotten-food filled fridges left after Katrina. He documented the city's celebration of the New Orleans Saints victory over the Indianapolis Colts in the 2010 Super Bowl, and shot portraits of Saints fans at the neighborhood bar he has patronized for the past 15 years.
Morris earned his bachelor's degree in photography and theatre design from Hampshire College and his master's degree in journalism and mass communications from the University of Minnesota. His work has appeared in several national publications including The New York Times, Newsweek and Time Magazine.
Millsaps Art and Lecture Series: "A Katrina Perspective" is Sept. 14 at 7 p.m. in the Ford Academic Complex. Admission is $10.