Wednesday, September 8, 2010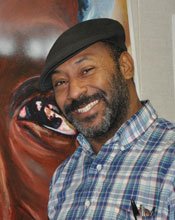 Lorenzo Miller sports a beard and a broad, engaging smile as he stands in front of his artwork inside the Eudora Welty Library. The walls of this otherwise dull white room pop with the brilliant colors and exquisite details in his paintings.
From looking at his work, one would not suspect that Miller is colorblind.
The artist paints with oil, acrylics and various mixed media. The subject matter for his paintings range from a portrait of a beautiful woman to an African American sax player surrounded by brightly colored musical notes. Another painting, a portrait of an African American matriarch with her home in the background, has an almost celestial quality to it and is painted primarily in light periwinkle blue.
"Every time I pull out something visually, it's a miracle," he says, while gesturing animatedly. "I never did anything for attention."
Miller's work is emotionally and spiritually driven. "Everything I do is because of God," he says.
As a child, the self-taught artist felt stifled by the art curriculum in high school at Murrah High School. He credits his parents for helping him reach his potential as an artist. His mother encouraged him to be an independent learner and equipped him with a dictionary to look up words he didn't understand. His father instilled in him the value of paying attention to details. The Jackson native and proud father of five children grew up in the Shady Oaks community in west Jackson, where he resides today.
Miller, 43, attended one year of college at University of Southern Mississippi before joining the U.S. Navy, where he served from 1985 to 1993. He has a background in health care, serving as a combat medical specialist from 1987 to 1993. As a civilian, he worked as a home health assistant. He also taught art at Watkins Elementary School from 1998 to 2000. He smiles at the memory.
"I loved it. ... I was able to influence their lives by showing them (the students) the beauty of creating," he says.
A giver by nature, Miller often donates work to churches and economically disadvantaged people in the community. A 7-by-5-foot collage he donated to the Jackson Police Department currently hangs on the police headquarters' wall. He hand-carved the names of officers who have fallen in the line of duty on the collage frame.
In July, Miller met Jennifer Parker, branch supervisor of the Jackson/Hinds Library System while photocopying images of his works. Inspired by what she saw, Parker arranged Miller's first one-man Jackson exhibit at the Fannie Lou Hamer Library last month.
For Miller, art is something to be shared, and he views his work as a ministry. "Art has been a blessing to me. ... Every painting or everything I've done was meant for that person," he says.