Wednesday, September 8, 2010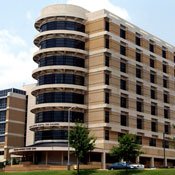 As the state's only teaching hospital, the University of Mississippi Medical Center occupies an awkward position. Its reputation as central Mississippi's charity hospital is sometimes at odds with its new image as a high-quality medical research center. And while its place under the authority of the state board for Institutions of Higher Learning insulates it from some of the rough-and-tumble economics of the health-care industry, it still competes with the Jackson area's three other hospitals for patients and, by extension, money.
That tension bubbled to the surface this month when UMMC's three sometime-competitors, St. Dominic Hospital, Baptist Medical Center and Central Mississippi Medical Center, filed suit to stop UMMC's purchase of cancer radiology equipment.
The three hospitals argued that the state Department of Health must grant UMMC a "certificate of need" before it can buy a roughly $5 million linear accelerator for use in radiation cancer treatment. UMMC initially requested a certificate of need from the health department in 2009, arguing that it was essential to the medical center's educational mission.
On June 9 of this year, though, Attorney General Jim Hood issued an opinion saying that the Department of Health had the discretion to decide whether UMMC's purchases were even subject to the certificate-of-need requirement. UMMC then withdrew its request for the certificate of need July 13, and submitted a separate request that the department decide whether the purchase required its oversight.
On July 22, the health department determined that the linear accelerator purchase was not subject to its oversight, giving UMMC the go-ahead to begin the roughly $1.9 million in renovations required to install the accelerator.
Baptist, St. Dominic and CMMC filed suit in Hinds County Chancery Court Aug. 10, alleging that UMMC needed a formal certificate of need. The hospitals also asked for a temporary injunction stopping any work on the accelerator's installation.
"Plaintiffs are hospitals serving the same market and public as UMMC, and all would suffer unfair competition and adverse economic impact from UMMC's obtaining the (equipment)," the three hospitals allege in their suit.
While the hospitals cite economic fairness in arguing for the certificate-of-need requirement, the requirement is primarily an attempt to control medical costs, says state Sen. Hob Bryan, D-Amory.
Because third-parties--health-insurance companies and federal programs like Medicare and Medicaid--pick up a significant portion of the medical expenses that hospitals charge to patients, patients have less incentive to forego more costly treatment. Bryan, who chairs the Senate Public Health Committee, said that these conditions lead hospitals to purchase expensive equipment and use it liberally.
"The existence of a gizmo leads to usage of a gizmo," Bryan said. "If you have enough people in town that one gizmo will handle all of them--but you have three hospitals, and you have three gizmos--then each hospital is going to overuse its gizmo. So the certificate-of-need process is to try to see to it that we don't have three gizmos out there that the system's paying for when we only need one."
UMMC's defense of its purchase hinges on its status as an educational institution as much as it is a hospital. The state Board of Institutions of Higher Learning made this case in a motion it filed Aug. 27 to intervene in the case, arguing that it has sole authority over purchases by UMMC. The medical center filed its own motion to dismiss the case the same day, arguing that state certificate-of-need laws do not apply to it.
In a statement, Dr. James Keeton, UMMC's vice chancellor for health affairs, cast the certificate-of-need requirement as a barrier to UMMC's three-pronged mission of education, research and health care.
"We believe (UMMC's) statewide missions would be greatly diminished if (it) were subject to regulation under state certificate-of-need law," Keeton said.
For Bryan, the lawsuit is yet another example of how the country's current health-care system distorts incentives and fails patients.
"There's an awful lot of lawyers spending an awful lot of time fighting these battles," Bryan said. "I'm a lawyer, but I ain't never made anyone well. Whatever we're spending on lawyers ain't being spent on taking care of the sick."