Wednesday, September 8, 2010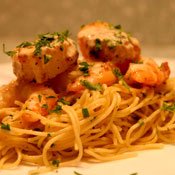 Scallops are one of those decadent delicacies that never fail to satisfy me—the silky texture, the milky color, the smell, just like the beach after a rainstorm—just perfect. And they really play well with others, too. You can set them right alongside a great piece of meat, fish or shrimp, and they are content to take either a starring or supporting role. I guess they are confident enough in their own yumminess that they don't have to worry about what other proteins think of them.
For today's dish, I put them in a co-starring role with shrimp and had their handsome Italian friend prosciutto give a cameo appearance. Usually, I'm not a big fan of heavy cream sauces with fish, but this dish just screamed for the savory richness that only heavy cream can provide. I did refrain from adding crabmeat, so my soul is still somewhat intact.
The secret to great scallops, shrimp or any other seafood for that matter, is not to overcook them. Because these proteins have such high water content, they react swiftly to heat and cook almost instantly. With shrimp, as soon as they turn pink on both sides, they are ready, and with scallops, all you want is a nice caramelized color on each side in a very hot pan, and they are perfectly cooked. If you cook them too long, they first turn rubbery and then, after they have been on the heat way too long, they go to mush. So love your crustaceans and mollusks and don't abuse them with too much heat.
Scallops and Shrimp Pasta with Prosciutto Cream Sauce
16 large shrimp (shells on)
1 yellow onion
6 cloves garlic
6 slices prosciutto
8 large scallops
1 bunch parsley
Salt
Black pepper
Paprika
1 cup heavy cream
1 stick butter
1 pound angel hair pasta
Peel and butterfly the shrimp, retaining the shells and heads. Finely chop the onions, three cloves of garlic, prosciutto and parsley. Retain the onion paper and trimmings. Crush the remaining garlic with the flat side of a knife. Season shrimp and scallops liberally with salt and pepper.
In a small saucepan, combine the shrimp shells, crushed garlic and onion trimmings. Add enough water to cover and season water with salt, pepper and a pinch of paprika. Bring to a boil for a couple of minutes and reduce to a simmer.
Heat a large sauté pan over medium heat and add two tablespoons butter. When the butter foams and starts to brown, add prosciutto, scallops and shrimp. Cook, turning once, until shrimp are pink and scallops are brown on each side. This should take no longer than one and a half minutes per side. Remove the shrimp and scallops from heat and set aside, covered in foil. Leave the prosciutto in the pan.
Add an additional tablespoon of butter to the hot pan, along with the chopped onion and garlic. Cook until the onions are just translucent.
Deglaze the pan with about a quarter cup of the simmering shrimp stock. As the stock reduces, add the cream and stir until the liquid is reduced by one half. Reduce the heat to low and add one tablespoon of butter, and slowly stir until incorporated in the sauce. Hold at low heat, stirring occasionally.
Cook the pasta in a large stockpot of salted water.
Add the shrimp and scallops to the sauce and stir gently for about one minute. Toss a small amount of the sauce with the cooked pasta.
Place a serving of pasta in a shallow bowl and top with shrimp and scallops. Top with the sauce and garnish with chopped parsley. (Serves 4)