Tuesday, September 7, 2010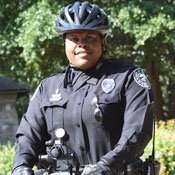 If you've been downtown in the last few years, chances are you've seen Jackson Police Department Officer Colendula Green riding her segway with a smile while keeping a watchful eye on the city. Though she had to part with her segway last month, Green is now the department's first female public information officer.
"I will miss my segway, but it was a good transition because this pretty much puts me in a better position," Green says. "This puts me in a better position to show our department in a positive light. A lot of people don't have a lot of confidence in police, period. In this position I will hopefully be able to change that."
As public information officer, Green is responsible for communicating with the media, writing press releases and conducting field interviews. Green said she will continue to volunteer at public schools where she talks to children about law enforcement. She also wants to gather support for Mississippi Blood Services' blood drives.
"I normally give blood every time, but I want to have the Jackson Police Department and Fire Department come together, as well as other outside agencies." she says.
Green, who declined to give her age, grew up in Mt. Morris, Mich. She graduated from high school in 1994 and attended Kansas City Community College on a basketball scholarship. She transferred to Jackson State University in 1996 and received her bachelor's degree in criminal justice in 2000. In 2002 she completed the JSU's elementary education program.
Green has been with the department since 2005 serving in the Downtown Patrol Unit. She lives in North Jackson with her husband and two sons.
Do you know a Jacksonian or Mississippian who should be the JFP Person of the Day? Briefly tell us his or her story, sending it to [e-mail missing]. Please include contact information and a picture, if possible.