Friday, September 3, 2010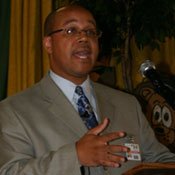 Former Jackson Public School Superintendent Earl Watkins said today that Jackson Public Schools' success begins with destroying misconceptions about races and ethic cultures.
"We're going to have to first look at what we need to address in our community, because the schools are a reflection of what's happening in the community," said Watkins, who works as consultant for the NAACP and other organizations after leaving the school district in 2008. "We must do our part to deal with issues that we've been fighting for many years, issues about our thoughts that we have about each other as individuals. Until we do that, we're not really going to address the underlying problems in our schools."
Watkins addressed a crowd of about 70 at today's Friday Forum at Koinonia Coffee House, where he shot down traditional arguments defending voluntary social segregation in the Jackson metro.
"One of the main reasons people say they won't move into a particular district is because of the quality of the schools," Watkins said, while passing around a list of the 2009 school-level ratings of Jackson's 55 schools. Davis Magnet School and McWillie Elementary School, and Power Academic Performing Arts Complex received the highest rating of "Star School" status.
"You see the star rating on these schools? But who's going to buy a house in the George Elementary area? That is a high-performing school, consistently, even back when we used a different rating system, so I can't buy that school-achievement argument. You have to move beyond achievement as a reason for not moving into a district. When we talk about diversity, let's not use these surface level reasons to determine what your position is. That dog won't hunt, but if it justified your decision, you'll hold onto it."
Watkins applied the same argument to several JPS high schools who had achieved "successful" status, including Lanier and Blackburn high schools. Watkins pointed out that realtors appeared unwilling to send white clients to these districts, despite the success of the local education programs.
"I recall a meeting with Mayor Johnson during his earlier administration," Watkins said. "We were at the train station. We were with a group of realtors. I had one realtor stand up and say, 'It doesn't matter if there's a level 5 school all over. If the housing stock is not of the quality of the people that I represent want to see, there is no way I'm going to take them to look at that neighborhood.'"
Watkins also passed around a list of Jackson Public Schools student- population demographics, which showed a gradual decrease in the white student population, from 8,204 white students in 1975 to only 470 white students in the 2009/2010 year. The district experienced a drop of about 200 white students per year between 1975 and 2010.
"The issue is a lot more than just student achievement," Watkins said. "There are deeply rooted, embedded concerns that we have to address about perceptions that we have about individuals throughout this city. Until we take this conversation from the Koinonia to the McWillie community, to the George community, I guarantee we'll continue talking about this problem 10 years from now."
Watkins advocated for a grassroots approach to building relationships with people. The consultant refused to think of the effort in terms of integration, but more in line with "coming together as people with common understanding."
Previous Comments
ID

159644

Comment

Would be nice for Dr. Watkins to have a follow-up discussion with the Friday Forum

Author

Meredith

Date

2010-09-03T14:04:35-06:00
ID

159665

Comment

Interesting point that Dr. Watkins makes. While it is true that a level 5 or "star school" in a district where the average home value is under $50K will not turn that community around economically, He does have a point that residential segregation in MS is not due to school quality and choice. The communities were segregated before the schools became "failing". Like he states, the schools are but a reflection of the community. I think his ideas point to a broader question about school ratings. What do they really reveal about student achievement and school quality? I work in a quite politically sensitive occupation in the educational realm (hence I use a screen name). From my work experience and research, school ratings in MS are highly correlated with racial and class segregation in MS. To put it succinctly, in the 2007-2008 school year, the average "High Performing" or "Star" high school had about a 72% white, 23% Black student enrollment, while the average failing High School had a 93% Black 5% white student enrollment. With a little math, this translates to over 35% of white high school students in the state attending a "star" or "high performing" school and only 12% of black high school students attending similar high schools. Also, roughly 30% of black high school students attended a "failing" or "at risk of failing" high school while only 2% of white high school students attended a similar high school. This data shows us that the issue of educational quality and access is inextricably bound to residential segregation and that school reform must start with the question of residential segregation and the concentration of poverty that results from it. Until we confront those issues at the community and public policy levels, we will continue to through good money after bad with the public schools in MS.

Author

Renaldo Bryant

Date

2010-09-08T08:39:25-06:00