Thursday, September 2, 2010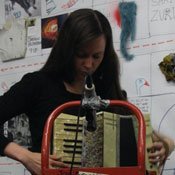 A distorted picture of Amber Boardman appears on the screen as the sound of distant voices accompany a melody of instruments. In her video "I Wish I Could See You," the voices, longing and nostalgic, are voicemails from friends and family that she has transformed into a work of art.
The video, from a series titled "Voicemails," is one of eight animations that the Brooklyn artist is showcasing through Sept. 28 at "The Emerging Space," a new gallery at Millsaps College. In addition to designing and producing the short animations, Boardman appears in several videos singing or playing the piano, drums, mandolin and guitar.
Boardman, 29, says the idea for the voicemail series came after she broke her leg and received several get-well messages from her friends and family.
"I broke my leg two years ago, and I had all these voicemails and text messages and e-mails from friends and family that were just so wonderful and heartfelt," she says. "... They were just these wonderful messages that I didn't have the heart to delete. It felt like throwing away a greeting card, and I wanted to turn them into something more."
She saved voicemails over a period of several years and uses them in various ways throughout the series. In the original video "Voicemail," Boardman matches her sister's singsong voice to music on her piano.
"(Her) melody sounds similar every time, so I thought it kind of reminds me of variations of a theme, so why don't I try to notate them out to see if she makes the same note every time," she says.
Boardman earned her bachelor's degree in fine arts from Georgia State University in 2003 and her master's degree in fine arts from The School of Visual Arts in New York in 2009. Her animation work has appeared on the Cartoon Network's adult swim shows "Squidbillies," "Aqua Teen Hunger Force" and "Perfect Hair Forever."
"What I want people to take away from these voicemail pieces, (is) the absurdity of how we communicate now with texting and voicemail, and that nothing is face to face," she says.
"The Emerging Space" is open Monday through Friday from 9 a.m. to 4 p.m. at Millsaps College campus inside the Lewis Art Galley on the third floor of the Academic Complex. The opening reception for the exhibit is Tuesday, Sept. 7, at 6 p.m. Visit Boardman's website for more information.