Wednesday, September 1, 2010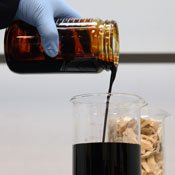 In a special session Aug. 27, the Mississippi Legislature passed a $45 million bond issue that will allow the state to loan $75 million to KiOR, a Houston-based startup that converts biomass into a crude-oil substitute.
KiOR expects to employ 1,000 people directly and indirectly and spend $85 million in the state. But the promise rests on a technology that is unproven at a commercial scale.
KiOR's Houston demonstration plant currently produces 15 barrels of its crude-oil substitute per day, using 20 tons of wood chips. Using a process similar to fluid catalytic cracking—a chemical process used in oil refineries—and a proprietary catalyst, the plant essentially speeds up the natural process by which biomass turns into petroleum.
The startup has backing from Khosla Ventures, a venture-capital firm headed by Vinod Khosla, founder of Sun Microsystems and an investor in alternative energy projects.
Khosla also funded Range Fuels, a biofuel project in Soperton, Ga., that proposed to produce ethanol—which can be blended with gasoline for use as a fuel—from wood.
That project has suffered from dramatically diminishing expectations, however. In 2007, the company projected an initial production capacity of 20 million gallons, with a peak capacity of 100 million gallons per year, at a cost of $150 million. By February of this year, it had revised those projections: The plant would produce only 4 million gallons this year, and its product would be methanol, a less useful and more volatile cousin to ethanol.
Some legislators seemed wary of investing in a commercially unproven technology, making references to the Mississippi Beef Processors plant that closed in 2004 after three months of operation and an investment of $50 million in state money.
Mississippi Development Authority Chief Financial Officer Kathy Gelston noted that KiOR raised $110 million from investors, a sign of the company's viability, she said.
The state is making its loan contingent on KiOR having a signed purchase agreement with an oil refinery. Gelston said that KiOR has already obtained letters of intent from two such companies.
The equipment that KiOR purchases with the state loan will also serve as collateral. If the plant fails to produce its projected $85 million in expenditures, the state could take ownership of the equipment.
The state's confidentiality agreement with KiOR prevented Gelston from sharing specific price projections for KiOR's "renewable crude," but she assured senators that the oil would be competitively priced.
"The price of gas could go down significantly from where it is today and the company would still be viable," Gelston said.
Unlike the highest-profile biofuel, corn-based ethanol, KiOR's crude oil substitute would benefit from being a "drop-in fuel," one for which a refining and distributing infrastructure already exists.
The manufacturer has pledged to build its first three production facilities in Mississippi—in Newton, Columbus and in Franklin County, near Bude. When operating at peak capacity, those facilities would each produce anywhere from 800 to 1600 barrels or more of synthetic crude per day, using between 100 and 250 truckloads of wood. That demand would help small timber farmers by bringing competition for lumber with large wood pulp mills, but it would not significantly overburden the state's timber industry or deplete the state's woodlands, according to a state timber industry source.
KiOR estimates that over its entire lifecycle—from harvesting wood to burning gasoline—the company's "renewable crude" will have 70 percent lower greenhouse gas emissions than conventional petroleum.
The company's approach represents an uncharted direction for biomass-based alternative energy. The two dominant methods thus far have used wood chips and agricultural waste to produce either ethanol or electricity. Of those, biomass electricity plants have an inherent advantage in terms of efficiency; burning a biofuel in an internal combustion engine necessarily means losing up to 50 percent of the fuel's energy in heat. John Bonitz, farm outreach and policy advocate for the Southern Alliance for Clean Energy, said that makes biofuels like KiOR's more effective as a short-term solution than a long-term one.
"From an energy-economics standpoint, ... it actually makes more sense to convert that biomass into electricity, which charges an electric vehicle, and you get more miles to the ton of biomass," Bonitz said. "As policy-makers, ... that's probably something we should consider, but that doesn't necessarily help us with our goal of energy independence in the near-term. ... If we can generate stuff in the near-term that gets poured straight into people's existing cars and trucks, that will help us with our addiction to foreign oil."