Wednesday, September 1, 2010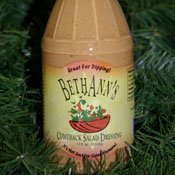 It all started as a way to save some time and money while making teachers' gifts. BethAnn Handelman's comeback salad dressing was such a hit that people kept telling her she needed to bottle and sell it. So, she decided to give it a try.
About five years ago, Handelman took a sample of her dressing to Mississippi State University's food-extension program, which tested it for acidity and safety. Then Handelman, 44, had Magnolia Label Company help create the label, and with that a local food favorite was born.
Handelman and her daughter, Amy, make each batch of BethAnn's Comeback Salad Dressing in a commercial kitchen in Pearl, and they also do all of their own bottling and delivering.
"I taste every batch and make sure it tastes just right," Handelman says.
She describes her dressing as similar to Thousand Island, but without the sweetness and with a little kick. The dressing contains all fresh ingredients, like garlic and onions, which makes it necessary to keep it refrigerated at all times and also means that it has no shelf life if unrefrigerated.
Using the fresh ingredients keeps Handelman from being able to ship the dressing outside the Jackson metro area, but she doesn't want to compromise the recipe's integrity by switching to powders or freezing it.
Jackson native Handelman gets her love of food and her top secret Comeback recipe from her father. She would like to keep the dressing a family tradition, and pass down the business of producing and selling it to her daughter.
"We have fun doing this," she says. "It's just two people, mom and daughter, with a part time son, Nick."
Purchase BethAnn's Comeback Salad Dressing for $9 at Foodies, Everyday Gourmet and Jimmy's Gourmet Meats. It's also available by the gallon and for restaurants; if you've ever had the Comeback at Cool Al's, that's BethAnn's. To carry this dressing at your restaurant or food store, contact Handelman at [e-mail missing].