Wednesday, September 1, 2010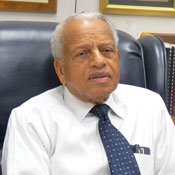 Houston Patton may have a busy docket as Hinds County Court judge, but he must also contend with an increasing number of cases that feature him as a defendant.
On Aug. 24, the Mississippi Commission on Judicial Performance filed a proceeding against Patton with the state Supreme Court asking for a formal reprimand and $1,000 fine.
The commission, which investigates ethics complaints against judges, concluded after its closed hearings that Patton violated the state's codes of judicial performance by discussing a case outside court and wrongfully jailing parties in civil cases.
In 2007, Patton heard two complaints against Billy Ralph Sullivan. In the first, Joseph and Debra Gregory alleged that Sullivan's company, A & S Environmental, owed them $21,875 for lease payments on a Daewoo track-hoe. The commission found that Patton spoke to the Gregory's about their suit outside of court, failed to give Sullivan proper notice of hearings and wrongfully held Sullivan in contempt.
The second complaint, from John Woodward and Vivian Wajda, demanded lost income from Sullivan for allegedly breaking a water line and failing to complete construction of a pond levee. Again, the commission found that Patton discussed the issue out of court with the plaintiffs, held hearings without giving Sullivan proper notice and wrongfully held him in contempt, leading to his incarceration.
In a third 2009 case, Patton found in favor of former Jackson Fire Chief Vernon Hughes and his wife, Constance, in their suit against Homer Tillman, the brother of Ward 5 City Councilman Charles Tillman. The $44,300.82 judgment resulted from a dispute over Homer Tillman's work as a housing contractor, according to The Clarion-Ledger. A year after Patton's ruling, the Hughes asked the judge to hold Tillman in contempt for non-payment. Patton granted their request two days later without notifying Tillman and ordered Tillman jailed. After Charles Tillman called Patton, the judge released his brother.
Patton is also the defendant in a federal civil-rights lawsuit based on a complicated bribery allegation dating back to 1997.
The story starts with James Jennings, who was embroiled in 1994 in a legal battle with his ex-wife, Stacey Kenney. In late 1996 Jennings enlisted attorney Keith Shelton to file a civil complaint against Patton, who--Jennings alleged--had him held in jail until he agreed to give up a $35,000 judgment he had won against his ex-wife. Shelton approached Patton in late March 1997 about settling the suit, and Patton responded by going to the Hinds County district attorney's office and telling them that Shelton had tried to bribe him. Jennings maintains that Patton misrepresented the interaction.
Patton later agreed to settle the case for $25,000, with $5,000 to be paid to Jennings upfront. He arranged a meeting with Shelton and Jennings for April 16, 1997. In the parking lot of a McDonald's at the Metrocenter Mall, while wearing a wire, Patton handed over the money, but he deviated from a script provided by investigators.
The Hinds County district attorney's office indicted Shelton and Jennings on bribery and conspiracy charges Aug. 14, 1997. It was not until November 2005 that Chief District Attorney Robert Taylor, the attorney with the DA's office who handled the case, dismissed the cases against both men "with prejudice."
In November 2008, Jennings filed suit against Patton and former Hinds District Attorney Ed Peters for wrongful prosecution. Judge Tom Lee ruled in February of this year against Patton's motion to dismiss the suit. Patton had claimed judicial immunity, arguing that he could not be sued for actions he took as part of his judicial duties. Lee decided Patton's alleged conduct was not protected.
"In the court's opinion, under the version of facts offered by Jennings ... Patton's actions may not fairly be characterized as judicial," Lee wrote in his order. The case is currently pending in U.S. District Court.
Lee dismissed Jenning's complaint against Peters, however, on the grounds that prosecutors have considerable leeway in pursuing cases that they find convincing.
Reached at his home Monday, Patton declined to comment on the Judicial Performance complaint or the federal lawsuit. "I'm in the middle of a re-election campaign, and all my effort, energy and concentration is on that re-election," he said.
Previous Comments
ID

159659

Comment

...and how was the "Play", Mrs. Lincoln? Did the Judge just say that all of his "effort, energy and concentration" is on his re-election?

Author

justjess

Date

2010-09-07T09:00:39-06:00