Wednesday, September 1, 2010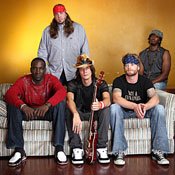 What better reason to get your music and drink on than to celebrate the ending of August and a long Labor Day weekend. Soon the oppressive heat will be gone. The foot-long corn dogs at the state fair are just around the corner. Throw down with the funk of Dr. Zarr's Funkmonster at Poet's II on Lakeland Drive this Thursday night to start the weekend off early. Also, Thursday is the southern blues-rock of Hill Country Revue with Tea Leaf Green getting it on in Hal & Mal's big room. Hill Country Revue is fronted by multi-Grammy-nominated Cody Dickinson of the North Mississippi Allstars. If you dig the Allstars or Allman Brothers-style jams, it'll be worth the $15 cover. Try them on at http://www.hillcountryrevue.com.
Friday night is garage night with the whiskey-soaked, garage-country outlaw Willie Heath Neal at Ole Tavern. Local garage/punk rock favorites The Hot Pieces will welcome the promising eclectic, punk-tinged, hooky-alternative rockers Shooting Out the Lights from Oxford to Hal & Mal's red room Friday night for their Jackson debut, 9:30 p.m. $5. Shooting Out the Lights' demo for "We Will Outlive our Lives" on http://www.myspace.com/shootingoutthelights is really amazing. Give them some love for their Jackson debut.
The fall festival season kicks off this Saturday, and the place to be is on Farish Street for the 32nd Annual Farish Street Heritage Festival, beginning at 4 p.m. $15 at the gate. $10 in advance at Be-Bop Record Shops. The Gospel stage runs from 4-8:30 p.m. Virgil "Big V" Walker kicks off the tunes on the main stage at 7:30 p.m., 601 starts up at 7:30 p.m. Bluesman Zac Harmon performs at 8:15 p.m., followed by Eddie Cotton at 9:15 p.m. The funky R&B group Sugarfoot's Ohio Players headline the festival, hitting the stage at 11:20 p.m. Go to http://www.farishstfestival.com for more details.
Not to be outdone, the Mississippi Stone Soul Picnic happens this Sunday at Winner's Circle Park in Flowood, 3-8 p.m., free. You'll find the best in gospel and soul with the Mississippi Mass Choir, the Canton Spirituals, Dorothy Norwood, Da Minista, Christian Angels, Benjamin Cone and many more. For the complete schedule visit http://www.mississippistonesoulpicnic.com.
Next weekend is the annual Celtic Fest at the Mississippi Agriculture and Forestry Museum on Lakeland Drive. The traditional whiskey tasting opens the festival next Friday, Sept. 10 with music from 7 p.m.-1 a.m. Saturday, the fest runs 10 a.m. to midnight, and Sunday 11 a.m. to 5 p.m. A three-day pass is $12, or $5 for kids, and gets you access to 45 music and dance groups performing on seven stages, plus Celtic heritage music and dancing workshops. Visit http://www.celticfestms.org for details on the performers that will be here from Ireland. Many of the stages are inside all the Ag Museum buildings so Celtic Fest is always held rain or shine.
Other highlights of the fortnight worth checking out are Quills with Josh Hailey doing a Tom Petty tribute next Friday, Sept. 10, in the Hal & Mal's Red Room. Also next Friday will be roots-countryman Steve Azar at Fire. Next Saturday Ole Tavern will host a musical tailgate revival with Will & Linda 5 p.m.; Seth Libbey & the Liberals 6 p.m.; Electric Hamhock 7 p.m.; Eric Stracener & the Frustrations 8 p.m.; M.O.S.S. 9 p.m., Bailey Bros. 10:15 p.m.; Iron Feathers 11:15 p.m.; and Furrows 12:30 a.m. $15.
The Mississippi Symphony Orchestra kicks off its fall season with its Bravo I concert next Saturday at Thalia Mara Hall, 7:30 p.m. Order tickets at http://www.msorchestra.com.
Get your road trip on with Alejandro Escovedo at Proud Larry's in Oxford Sept. 14; Ghostland Observatory at Oxford's Lyric Sept. 15; and the Dirty Dozen Brass Band, Jason Isbell, Mary Gauthier and Kevin Gordon at the Lyric Sept. 17. The 33rd Annual Mississippi Delta Blues & Heritage Festival is Sept. 18 in Greenville. The Lyric will smoke all fall with The Hold Steady Sept. 22, Jamey Johnson Sept. 23, Rogue Wave Oct. 7, Matt & Kim Oct. 11, MGMT Oct. 30 and Of Montreal on Nov. 5. Wavves will be at Proud Larry's Oct. 2. Get your tickets and plan to go to Oxford now. You won't see these bands in any other Mississippi city.