Wednesday, September 1, 2010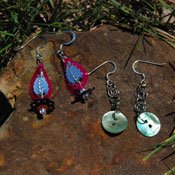 If you perused the silent-auction tables at the 2010 Chick Ball in July, you had the opportunity to bid on Jewels by Mae pieces by local jewelry designer Myrtlena Alice Ertle Hankins: Mae for short.
Hankins, a Yazoo City native, moved to Pearl when she was a senior where she graduated from Pearl High in 2001. The 27-year-old designer has always had a love for jewelry and started off in junior high school, making gift pieces for friends and family. Not long after, she started receiving requests for custom items on a regular basis and she created Jewels by Mae.
She finds inspiration everywhere.
"I like funky, different jewelry," Hankins says. "I may see a dress with sequins on it or a tiny wood sculpture. I try and use those actual elements in my jewelry. I also like heritage-based jewelry—something with a history."
Hankins is presently working on her website (jewelsbymaye.webs.com) to showcase and sell her jewelry. She also encourages people to e-mail her about custom pieces. She also adds customers to a mailing list and sends them updates on new items and the status of the website.
"That is my most favorite thing to do," Hankins says about of her custom work. "I also try and make all of my pieces one of a kind. Very rarely will you see two (of my pieces) that are exactly the same, unless someone requests multiple pairs."
She currently works as a bookkeeper at Bryant Galleries and is a veterinary technician. Hankins will graduate next August with a degree in veterinary technology and a general associates from Hinds Community College. Because of her love of animals, Hankins is a strong advocate for spaying and neutering; in the Jackson area, many animals are homeless because of pet overpopulation.
Contact Jewels by Mae at [e-mail missing]. Jewelry prices range from $7.50 to $40.