Wednesday, September 1, 2010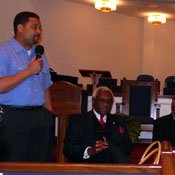 Listen to audio from the forum (63.3 MB)
Community leaders and residents held a forum on Farish Street last night discussing how churches can play an active leadership role in a host of issues including the city's declining tax base, new developments and engaging area youth.
The Historic Farish Street Baptist Church hosted "Engaging Church for Community,' a panel discussion with local radio host and Tougaloo professor Eric Stringfellow, Jackson State University Interim President Dr. Leslie McLemore, Jackson Mayor's Office Chief of Staff Sean Perkins, Dependable Source Corp. President Willie Jones, Hinds County District Attorney Robert Shuler Smith, Full Spectrum South Development Director Malcolm Shepherd and Watkins Partners Director of Entertainment Brad "Kamikaze" Franklin.
Perkins, who spoke on the city's role in forming a sustainable and diverse society, said the city must reinvent itself in the midst of a declining tax base.
"We are a city that is in transition; we don't have close to 200,000 citizens living in the city of Jackson anymore," he said. "We don't have the tax base that we once had. So we had to figure out, what is the proper size of city government to operate in a city in these circumstances."
Perkins noted that residents and businesses are moving back to Jackson, and the city must develop a strategy to be more effective and efficient. He said instead of laying off city employees, the city has come up with creative solutions to manage resources. He also touted the city's recent approval of "311" software that will allow residents to submit complaints to the correct city departments by dialing 311.
Perkins, who is a life-long resident of Jackson, said one of the most important things that residents can do is not believe negative stereotypes about the city.
"I have rebuked the idea and the thought that because we are an over 80 percent African American city, that there is something wrong with the city of Jackson. ... What we need to do here in the city of Jackson, as residents, is do the same thing. Now the flipside of that is that we have to accept the fact that not everyone who lives in Jackson looks like the majority of us in this church today," Perkins told the predominately African American crowd.
"We have to accept the fact that we are a growingly diverse city that has an opportunity to be the next Memphis, New Orleans, Atlanta or Dallas--or how about we just be the next Jackson?"
Previous Comments
ID

159615

Comment

I hate I missed this. Anyone attend? If so, what were some of the ideas discussed?

Author

Renaldo Bryant

Date

2010-09-01T13:03:45-06:00
ID

159616

Comment

Hey Blackwatch, I uploaded the audio file (see link above) you should be able to hear most of the presentation.

Author

Lacey McLaughlin

Date

2010-09-01T13:08:04-06:00
ID

159617

Comment

"I have rebuked the idea and the thought that because we are an over 80 percent African American city, that there is something wrong with the city of Jackson. ... " I admit that I haven't heard the audio, but I'm just responding to this quote. What about those of us who feel there is something wrong with the city of Jackson, not due to its racial make-up, but because of the dysfunction on all levels of leadership and governance?

Author

Krystal

Date

2010-09-01T13:31:07-06:00
ID

159618

Comment

what was the attendance like? i would've loved to have known about this meeting.

Author

eyerah

Date

2010-09-01T14:00:53-06:00
ID

159620

Comment

They seem to have promoted it late, Blackwatch, but there is an audio there. What about those of us who feel there is something wrong with the city of Jackson, not due to its racial make-up, but because of the dysfunction on all levels of leadership and governance? That kind of blanket statement about "all levels of leadership" is mighty suspect, Krystal. Obviously, it is not true under this administration; it wasn't even true under Melton, although much closer than now. Sorry to say this, but that kind of statement just makes you sound partisan, or worse. Perhaps try to reframe into a specific example of a problem rather than a blanket indictment, and then we can have a conversation about it.

Author

DonnaLadd

Date

2010-09-01T14:26:56-06:00
ID

159621

Comment

I agree, most generalizations should be dismissed. And I'm sorry to fall into that level of discourse, and I admit, I have a short period of Jackson history with which I am intimate, but in that time I have become very jaded. I often feel that ego is more important in this city than progress.

Author

Krystal

Date

2010-09-01T14:44:17-06:00
ID

159622

Comment

I'm also curious, Donna, what is your idea of "worse than partisan"? :)

Author

Krystal

Date

2010-09-01T14:47:14-06:00
ID

159625

Comment

That's easy, Krystal. There are worse ways than simply being "partisan" to come up with generalizations and stereotypes such as that one. I don't know your reasoning, but we will all know where that particular meme usually comes from. Of course, many people probably pick it up and pass it around without thinking about why it exists. Is that worse than "partisan," or simply the same thing? I'll leave that for others to ponder. To your other post, certainly there are egos at play; there always are. But I will say that the worse example of ego I have witnessed in Jackson are all the people who got together and elected a completely inept mayor (Melton) -- apparently because he told all of them they could have whatever they wanted (which for some included curing crime in 90 days, others a big ole lake, still others perhaps a Brooklyn Bridge). Nice reason for electing a mayor, and l would say steeped in ego.

Author

DonnaLadd

Date

2010-09-01T16:11:18-06:00
ID

159626

Comment

Oh and Krystal, I still suggest that you put specific issues on the table rather than continue to deal in generalizations. The current administration has weaknesses and strengths, and some of its strengths are recast as weaknesses by partisan opponents. So it could be helpful to get specific.

Author

DonnaLadd

Date

2010-09-01T16:12:49-06:00
ID

159629

Comment

The forum was very well attended actually. I was pleasantly surprised. There were a couple of councilmen present. A Hinds County Supervisor, a sitting Judge, A JRA board member and several prominent activists in the room. A little disappointed that there weren't more young faces. But we have all pledged to continue the discussions. 2 hrs just doesn't cover it all.

Author

Kamikaze

Date

2010-09-01T18:17:19-06:00
ID

159630

Comment

If we can get more advance notice, we can probably turn out more young faces, Kaze. Pass it on to the organizers. This kind of thing needs to go in the calendars for a couple weeks in advance!

Author

DonnaLadd

Date

2010-09-01T18:19:49-06:00