Wednesday, September 1, 2010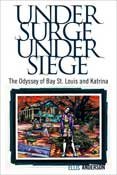 The end of August marks the fifth anniversary of Hurricane Katrina. Coast residents have built new houses and rebuilt businesses and other structures, and, though Mississippi's Gulf Coast looks different than it once did, the doggedness of its communities is unmistakable.
Two recent books chronicle Mississippi residents' trials and efforts during and after Katrina: Ellis Anderson's "Under Surge Under Siege: The Odyssey of Bay St. Louis and Katrina" (University Press of Mississippi, 2010, $25) and Kathleen Koch's "Rising from Katrina: How My Mississippi Hometown Lost It All and Found What Mattered" (John F. Blair, 2010, $22.95).
Both books afford an intimate glimpse into each author's experiences while Katrina ravaged the Gulf Coast, focusing particularly on how residents in Bay St. Louis , and elsewhere on Mississippi's Coast, survived while waiting days for aid, and how the mainstream media lost Mississippi's plight while turning attention to New Orleans instead.
Each book is equally intriguing, if only for the authors' recollection of making it through Katrina's landfall and the days that followed. What makes them compelling is that they are records of how others in the community survived as the authors did.
Anderson writes about being in Bay St. Louis at the time of Katrina's landfall and storm surge. Her recollection of the storm's aftermath is haunting and poignant: "Bay St. Louis had been three hundreds years in the making and had survived dozens of direct hits by storms. Katrina had annihilated most of the town in the span of a single morning."
Koch, then a CNN broadcaster, relays the events from a journalist's standpoint, first in Mobile, Ala., and then later in Mississippi as she and her crew travel to report on the damage. She uses various residents' survival stories to examine the hurricane from many points of view, similar to parts of Anderson's book.
The books reveal the moral and amoral sides of people, including looting and the sky-high rates insurance companies forced on coastal clients. Koch's experiences occasionally border on harrowing.
As her crew's SUVs, fully stocked with food, water and gasoline, drive through the freshly devastated coastal remnants, local residents turn to force to get the sparse supplies. Koch's colleague Emmanuel talks their way out of an unnerving encounter.
"As we approached an intersection, a man with a shotgun motioned for us to stop and then grabbed Emmanuel's arm as we rolled to a halt," she writes. "'I need that gas,' he said, pointing to the red cans strapped to the tops of the SUVs. 'I need it!' The man was sweating, wild-eyed and desperate.
"'Listen, brother, I'm with CNN. I'm here to do this story. If it were up to me, I'd give you this whole goddamn car and the gas in it,' replied Emmanuel. 'But if I don't get this story out, you won't get the help you need. If we're done at the end of the day and have some left, I'll come back.'
"Somehow his calm tone and demeanor resonated. The man stepped back and let us pass."
Anderson's disclosure of coping with post-traumatic stress disorder and the extent to which surviving the storm imprinted on her provide a complete, unabridged narrative.
"In 2008, I found myself sitting at a kitchen table with family in South Carolina. Midway through the lunch, I realized that I'd mentioned Katrina at least a dozen times ... I pinched my own arm under the table, furious at myself for dragging my muddy mental baggage into a holiday gathering. Yet a few moments later, 'Katrina' popped out of my mouth again, as distracting as a belch in the middle of a Sunday sermon," Anderson writes.
What makes both books worthwhile is their revelation of the tenacity of Mississippi's residents, even in times of needs. Anderson's volunteer efforts exist as a testament to the efforts of many others as well.
Koch's struggle between whether to strictly report or help the people on whom she's reporting culminates in documentaries and a renewed sense of service to her claimed hometown of Bay St. Louis, where she moved at age 12. During discussion with her CNN colleague about one of the documentaries, the resilience of Mississippi's people shines through.
"'I don't understand how they remain so optimistic,' (producer Emily Probst) said. 'Everyone says, 'We're fortunate. We'll be okay. We'll rebuild bigger and better.' And I look around and wonder, 'Are they seeing what I'm seeing?'" Koch writes.
These books provide a snapshot of the time between Katrina and its rebuilding endeavors, as well as an intimate look at the experiences of two courageous, determined women who put community above self. To read these books is to peer fleetingly into the tribulations of the authors and their city.
Ellis Anderson signs "Under Surge Under Siege: The Odyssey of Bay St. Louis and Katrina" at Lemuria Books (202 Banner Hall, 4465 Interstate 55 N., 601-366-7619) Sept. 23 at 5 p.m., with a reading at 5:30 p.m. Lemuria also has available signed, first editions of "Rising from Katrina: How My Mississippi Hometown Lost It All and Found What Mattered."