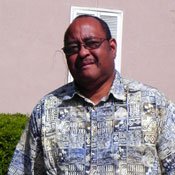 Polling numbers showing that Second Congressional U.S. Rep. Bennie Thompson is only one percentage point ahead of Republican candidate Bill Marcy do not accurately reflect the district's voting population, Blue Dot Group Partner and former Mississippi Democratic Party Executive Director Sam Hall said today.
This afternoon, WAPT reported that Marcy and Thompson were in a "neck and neck" race citing a JMC Enterprises poll reporting that Thompson, a 17-year incumbent, has 42 percent support and Mary has 41 percent support.
The poll surveyed 7,417 households, obtaining 441 responses from "registered" and "likely" voters. The poll states that while 2000 U.S. Census data shows that the second district is 63 percent black and 35 percent white, the racial breakdown of the poll is 60 percent white and 40 percent black. The poll states that the some of the answers are weighted to reflect an accurate racial breakdown, but does not specify which answers.
Questions include: "Do you favor a flat tax on income, a sales tax on consumption, or neither to support the Federal government?"; "Do you believe that your Congressman deserves to be reelected?"; and "If the election where held today, who would you vote for"?
Hall took issue with the fact that the poll showed a skewed racial makeup for the district. "If you are polling a universe that is 60 percent white, you are getting an inaccurate sample of what the polls are going to look like on Election Day," Hall said.
Hall said the poll could be a strategy to get more Republicans to the polls.
"What they are doing here is releasing a poll that they have made to look as good as they possibly can for Marcy to drum up some interest, and maybe push out some voters who would normally sit at home," he said.
Previous Comments
ID

160628

Comment

Read last weeks Clarion Ledger article about the Republican Chairman of the Hinds County Election Commission denying monitoring access to the programming and set up of the electronic voting machines to her Democratic Commissioners. I served on the Hinds County Democratic Executive Committee for several elections and it is apparent to me that the electronic voting machines used in Hinds County and 70% of the country are ripe for manipulation during the programming, set up and vote download processes. This experience prompts me to predict that this "1% margin poll" is a setup to some voting machine shenanigans.

Author

FrankMickens

Date

2010-10-31T16:23:54-06:00
ID

160641

Comment

If this weren't so sad, Frank, it would be funny. Republicans seem to have no limits to how low they will stoop. But no, wait, their's is the party of morals. I keep forgetting that.

Author

redlion

Date

2010-11-01T16:36:06-06:00
ID

160647

Comment

Just got finished listening to Morning Joe on satellite radio and they were talking to Haley Barbour. This guy is getting ready to run for president and they were loving him! He didn't say was - what he actually said, "running for president isn't something you just talk over a beer with your buddies and say I'm running for president", but who else is going to run in 2012 and can be taken' seriously in the republican party? Kept the commonality with the beer reference, but also kept a mature southern gentlemen's drawl to the conversation. Also, they cracked a joke about the President talking to Ryan Seacrest today - on election day, while talking to Haley Barbour. Interesting day already on election day.

Author

Duan C.

Date

2010-11-02T06:30:59-06:00
ID

160648

Comment

I find it difficult to believe that a black Republican who has never lived in this district but was imported just to run against Thompson could ever poll close enough to present a real threat if the poll were taken accurately. Thompson is going to trounce this guy by a margin of 80-20 at least.

Author

Jeff Lucas

Date

2010-11-02T07:28:15-06:00
ID

160649

Comment

Here's how it could happen, Jeff: People don't bother to vote.

Author

Ronni_Mott

Date

2010-11-02T08:48:36-06:00
ID

160650

Comment

Just out of curiousity, can anyone direct me to a site on how the ballot was made this year? Just want to know exactly what and who we are exactly voting for and on today, so I can do any last minute research before I go after work?

Author

Duan C.

Date

2010-11-02T11:06:02-06:00
ID

160651

Comment

RonnieM, So true. Apathy, the great equalizer.

Author

FrankMickens

Date

2010-11-02T12:02:41-06:00
ID

160659

Comment

[quote]Here's how it could happen, Jeff: People don't bother to vote. [/quote] As of 10 p.m.: Bennie Thompson: 59,411 Bill Marcy: 38,303 72% reporting Uh, yeah, Ronnie...you were saying?

Author

Jeff Lucas

Date

2010-11-02T21:26:48-06:00
ID

160668

Comment

I wasn't making a prediction, Jeff. I was saying that's how it *could* happen.

Author

Ronni_Mott

Date

2010-11-03T09:32:20-06:00
ID

160670

Comment

What's crazy is how far off this poll was; cheers to Lacey for catching it and writing this story Friday pointing it out. I can't imagine would hire this polling company after this!

Author

DonnaLadd

Date

2010-11-03T09:47:35-06:00
ID

160673

Comment

@Ronnie: I understand I shouldn't have sounded so snarky, just saying that I was confident folks in the 2nd District are committed enough to Bennie to not stay at home and let an outsider like Marcy get elected.

Author

Jeff Lucas

Date

2010-11-03T10:47:52-06:00