Wednesday, October 27, 2010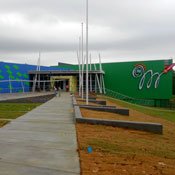 The rain didn't stop construction or hinder the excitement at the Mississippi Children's Museum this morning. Members of the media gathered at LeFleur's Bluff State Park today for a sneak peak at the imaginative museum, scheduled to open December 4.
Mississippi Children's Museum has five galleries: science and technology; health and nutrition; arts; literacy; and Mississippi heritage. Programs Director Chavanne McDonald said the galleries engage the imagination, give visitors a better sense of place and pride in Mississippi, and strive to help combat illiteracy and childhood obesity. Exhibits are educational, interactive and designed to engage all the senses.
The focal point of the museum is a topographical state map, allowing visitors to learn about Mississippi's geology. The Children's Museum also includes the world's largest Scrabble board, an active art studio, a music studio where participants can mix music, and a reading area that is a replica of Eudora Welty's porch.
"Every opportunity is a learning opportunity," McDonald said.
On Dec. 4, the museum will have a family day with timed tours. For more information, visit the museum website or call 601-981-5469.