Wednesday, October 27, 2010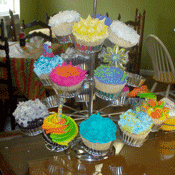 The smell of freshly baked cookies hits you as you walk in. To your left are biscotti; to your right are muffins, cupcakes and lemon squares. Directly in front stands a lady whose fancy gold earrings pale next to her big smile and hot-pink polka-dotted apron.
No, this is not heaven; it's Melanie's, a special sweets shop in Byram that not only indulges people with cupcakes and cookies but a variety of home-cooked meals as well.
Melanie Smith, 47, is originally from Mellow Valley, Ala., but moved to Mississippi after her husband's job relocated them here. Smith said the reason she opened the store was that her son was headed to college, and she "refused to take out a student loan."
"Cooking was my only talent," she says.
Smith and her "cupcake cuties," a group of young girls who help market Melanie's cupcakes, started out going door-to-door selling sweets. A few months later, Smith fell ill and had to be hospitalized. When she returned home, she had 20 missed calls from her customers who not only wanted her cupcakes, but, she says, "wanted real food."
Subsequently, Smith bought a building, a commercial refrigerator and freezer, all of which later became "Melanie's."
"All people need a home-cooked meal," she says, like chicken and dumplings or beef brisket. "Families need nutritious meals that haven't been processed." Her mission is "to serve older people who can't cook for themselves, the single father who has to take care of his kids and the working mom who doesn't have much time to cook."
"I've also hired six people," she adds.
Smith recalled a man who came in with his wife, a lady who she remembers as being "immaculately dressed, with hair that was in place and a face like a China doll."
The man told Smith that he and his wife had been married 67 years, and that his wife was in the latter stages of Alzheimer's and could no longer cook for them. Smith supplied them with frozen meals, such as lasagna and seafood gumbo, and the two have been regular customers since.
Smith says she chose Byram for her location because the people are kind and supportive. She says her customers are always willing to try new things, and they believe in supporting local businesses.
"They came the first time, and they keep coming back," she says.
Melanie's (7126 Siwell Road, Byram, 601-371-1933) is open Monday 3 to 6 p.m., Tuesday through Friday 10 a.m. to 6 p.m., and Saturday 10 a.m. to 2 p.m.